If the Ewings thought their troubles were over with Cliff Barnes and Harris Ryland behind bars, they were sadly mistaken. 
Because as Dallas Season 3 Episode 1 premieres with "The Return," they have an enemy in their midst and they don't even realize it .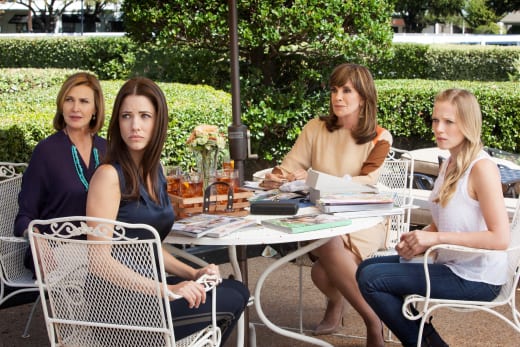 But let's start at the beginning…
I loved that they opened with Bobby visiting the family grave site and that he still talks to Mama in this Dallas quote…
Bobby: So I'm the care taker now, huh Mama? I'm the only one left.  
Well, not quite. John Ross doesn't seem to be going anywhere and he certainly has his own ideas about the future of South Fork. Can you imagine that house with three story atriums and an indoor swimming pool? It certainly wouldn't seem like South Fork but I will admit, the house always did seem small for all the people living in it. 
How much time John Ross will be spending at home is anyone's guess. The man is complicated.
He's got no problem rolling in the sheets with Emma Ryland in order to get her power of attorney, or at least to get her to use it for him. But the next thing we see is him down on one knee proposing to Pamela under the stars at South Fork…
Will you marry me Pamela. I can't promise it will be smooth sailing but I promise it will be the ride of your life.

John Ross
In that moment, I truly believed he loved her. But how long can he juggle his philandering? And what will Pamela do when she finds out because we know it's only a matter of time before she does? It wouldn't surprise me if Emma told her herself, because she just seems that kind of crazy.
Which is a shame. Emma and Pamela could be friends. They have a lot in common…
Hey, I'm not the only girl in the room to put her father behind bars. What are the odds?

Emma
Heck, the girl will probably end up being a bridesmaid at John Ross and Pamela's wedding. And I absolutely love that their planning a wedding at South Fork. Historically, South Fork weddings are highly entertaining events. So much so that some couples have chosen to have them more than once. 
Now on to the fox in the henhouse. Otherwise known as Elena Ramos. 
So Cliff was right: JR had switched the deeds and left her daddy with a worthless piece of land. I half wonder if JR really did it (he's certainly capable of it) or if Cliff set it up to look that way. In the end it doesn't matter. Elena's turned to the dark side.
I was wondering if Christopher's apology would sway her from her plan but it didn't appear so. When she walked into Ewing Global, hat in hand asking for a job, my stomach turned. 
My big issue was that no one in that board room questioned how Cliff knew about their plans to obtain the Artic drilling. Nicholas Trevino knew a lot of details about their plans when he showed up yet know one seemed curious as to how he'd obtained that information. 
Instead everyone scrambled to save the deal, turning on one another in the process. Now that John Ross has the right to grab that oil from South Fork property, will the war between he and Bobby keep either of them from noticing the enemy in their midst?
Elsewhere, Harris Ryland is out and it looks as though he owes his freedom to some very dangerous men. I doubt it will take any of them long to figure out who Emma is in bed with and that will be one more complication for John Ross. 
The Ewings are back and their enemies are everywhere. Do you think Elena will have a change of heart or is their blood in the oil at Ewing Global?
C. Orlando is a TV Fanatic Staff Writer. Follow her on Twitter.