The splintering of plot elements in Revolution Season 2 Episode 14 is starting to show what is working well with the series... and the other areas that really need some improvement.
First up, what's working well: Monroe, Connor, and Charlie.
David Lyons is playing a surprisingly deep and nuanced character. He's one of the strongest aspects of the entire drama. It's a departure from the one dimensional and mostly phony Monroe from Revolution Season 1.
Being a father has only deepened the character. He's been a father for about 15 minutes, but there's a real attachment and love for Connor that developed overnight. He still wants to give Connor the best, and he's willing to use whatever ounce of leverage he can to make sure Connor is willing to go along with the plan and survive over him.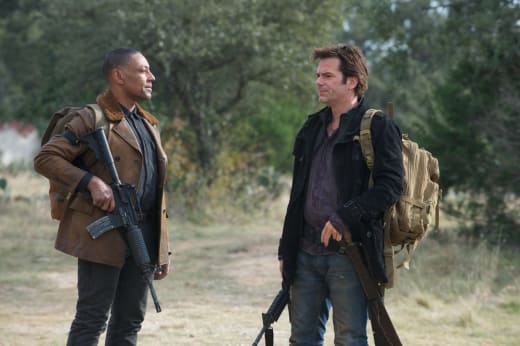 Connor, too, has come along just as far as Monroe; seeing what Monroe is sacrificing for him, knowing the truth of what happened to his mother and promising his legacy will be kept alive.
The one caveat: Monroe doesn't want Connor to start anything with Charlie. Which means a relationship is all but a given now that Monroe has put his stamp of disapproval on it.
The trio's escapades in New Vegas were really the highlight of the installment. They all share a likeable chemistry with each other and if Revolution were to focus only on this aspect of the show – Monroe, Connor and Charlie's adventures – I would be happy.
Plus, Charlie is the esteemed leader of the village people of hired guns and that's going to put a definite wrench in the Monroe Republic 2.0 plan.
Even so, nothing gets by Miles. He's been burned by Tom one too many times, but they're unwilling to give Monroe over. This is another stark change from Revolution Season 1, where everyone was gunning to make sure he was killed.
Tom thought he had that one trump card: mutual hatred for Monroe.
Aaron's latest chapter in the nanotech saga brought us to the not so good, as his story took another weird turn when he tried to implant a virus into the tech to kill them and he wound up back in 2014.
It's good Aaron finally stood up for himself against the nanotech and wants to find a way to rid all connection of it once and for all. But whatever this altered state is, doesn't feel like it will have any real ramifications or investing.
Instead it could be the nanotech's final attempt at gaining control of Aaron for their fix.
Is Aaron really in the past, or is he just dreaming?