Teen Wolf Review: Naughty for Nogitsune's Return

Carissa Pavlica at . Updated at .
With every passing episode, the first half of Teen Wolf Season 3 becomes a distant memory.
All of the Alpha pack infighting had bearing only insofar as it brought out Scott's status as a True Alpha. 
It was trying to get through some of that story, but it was worth suffering through the more tedious moments to get to what we're experiencing now.
As the only character without some sort of special ability, Stiles was the heart and humor of Teen Wolf. His transformation into the terror has been simply riveting.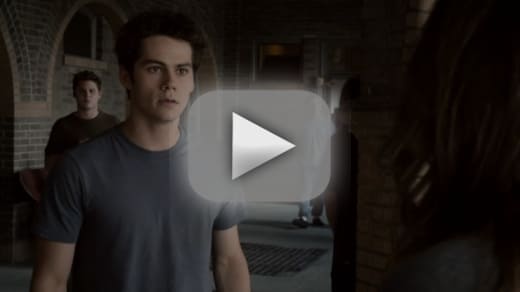 Both the character and the actor (Dylan O'Brien) who play him have earned their moment in the spotlight and Teen Wolf Season 3 Episode 20 showcased the talents of both yet again. 
From the character of Stiles we were treated to unending compassion and concern for his friends and, heck, the community at large. He selflessly checked himself into Eichen House thinking it would be best for everyone concerned, but once there he was even worried about the patients locked in with him.
It was hard not to be worried when someone committed suicide immediately upon his arrival. If you've wondered where Ms. Morell has been spending her time, apparently some of it has been at Eichen House. It made sense given her profession in general, and even more when Stiles ran into Malia's fist in the hallway.
In a town like Beacon Hills when the supernatural (is that what we call them?) don't know what they are or how to handle it, they probably end up in Eichen House. Having Morell around to help would be helpful. Knowing she has a drug used for lethal injection on hand perhaps not so much.
The best relationships always seem to grow from some sort of tempestuous beginning, so let's keep our fingers crossed for our favorite Nogitsune occupied human and the werecoyote, shall we? How hot was that?!?
Even if everything else fails and Stiles never comes back to us, we can rest easy knowing that he got a little action with Malia -- Peter Hale's daughter! Remember how Peter was rolling on the floor in agony in Teen Wolf Season 3 Episode 19 after learning he was a father? Try to imagine the moment he learns about Malia... and then that she's involved with Stiles. We need a GIF for that. Seriously.
Hooking up with Malia proved to be too much for Stiles, however, because of his massive heart and his weakness for caring for others. He allowed the Nogitsune in to save her. 
That's where Dylan O'Brien reminded us he doesn't need Teen Wolf to be a success. 
As I watched O'Brien transform from the bound Stiles with tears streaming down his cheek to the possessed Nogitsune Stiles wickedly punching Oliver in the face with a fearless glance and an inner strength that O'Brien rarely gets to portray through our Stiles, it was difficult not to imagine him leaving the series.
He has range that goes far beyond what he's given weekly on Teen Wolf and beyond what he's been given so far in films. We can't be the only ones taking note of his incredible talent. He's going to have a very full calendar.
There have been various theories mentioned about what might save Stiles and at least one comment came with the observation that changing him into a werewolf might save him from his brain disease. Now that the gang uncovered one of the scrolls that says changing his body would rid him of the Nogitsune, Scott thought turning him would do the trick. Two birds with one stone!
Malia and Stiles found the body of a Nogitsune in the basement and a scroll was buried with him. It must be another way to save Stiles. It seemed to rile up the Nogitsune pretty good, so perhaps it's a better way than changing Stiles' body or one that gets rid of him completely so he can't inhabit another.
There was one question I had about Malia -- did being emotional and close with Stiles give her the blue were-eyes or was she always able to do it and she was tricking Stiles for some reason? Thoughts? I don't believe she's evil. 
Scott used his True Alpha spidey senses to save a life rather than take one. Keeping him honorable and unflinching with the constant pressure of Aiden and Ethan at his side is a nice touch. 
Araya (better known to us here on TV Fanatic as Bay and Daphne's meddling grandmother on Switched at Birth) the werewolf hunter showed up to check on Argent. I didn't quite catch her purpose, but she's been looking for a specific she-wolf if I remember correctly. Perhaps she meant she-coyote? Peter Hale's daughter would probably be significant to her. 
With only three more episodes to go before the season finale and a major death, I'm going to have to ask if your feelings have changed on who we're going to lose. We'll stick with the cast in the credits since Jeff Davis said the title sequence would likely get an update due to the loss.
Don't forget -- you can catch this or any episode when you watch Teen Wolf online. Hit the comments with all your theories and thoughts. Talk people!
Who do you think will die by season's end?
Carissa Pavlica is the managing editor and a staff writer and critic for TV Fanatic. She's a member of the Critic's Choice Association, enjoys mentoring writers, conversing with cats, and passionately discussing the nuances of television and film with anyone who will listen. Follow her on Twitter and email her here at TV Fanatic.