It was all about the case and Finn's return to the Jeffersonian on Bones Season 9 Episode 19.
Of course, I enjoyed the interpersonal portion of the hour much better than the case. The latter wasn't particularly intriguing, but it did include a relic hunter and his purchases that lead the team to the killer.
It was fun how the man of the hour (otherwise known as the dead guy) waltzed into his own funeral. At least he can rest knowing it was a decent affair!
Because he was a relic collector, it gave the team a lot to explore historically and there were even mentions of Marco Polo having touched it in the chalice's more recent history. 
It wasn't one of the relics (two of which had pieces embedded in the victim) that solved the case in the long run - it was the billionaire's girlfriend's bid on a manicure with nail polish containing diamond dust. I don't know about any of you ladies out there, but for as long as nail polish lasts on my tips I would never justify such an extravagance, even for charity.
Sadly, Sarah didn't kill Daniel out of malice, but to keep him from delivering a hit of heroin to her lover (the billionaire), Todd. She hit him in the head with the chalice and -- whoops -- he died. When you put it into perspective, there are a lot of things you can do in the heat of the moment that could land you in that place.
Trying to keep your guy heroin free isn't the worst reason to conk someone on the head and in many cases it wouldn't even kill him. I guess it was just bad luck. Sarah should have also realized that if Daniel was giving Todd heroin, and Todd was a billionaire, he'd get it where he wanted to and Daniel wasn't the problem.
Elsewhere Finn was back in town and excited to announce that his hot sauce was a success -- it would be going nationwide! Then Michelle broke up with him because she changed while she was away at school.
Finn didn't hold anything against her and he wished her the best. He also knew that since he had money for the first time in his life, something else was probably going to give. It was Michelle. That's a sad way to look at life, but I appreciated his candor. He wouldn't have given up his time with Michelle, so that's a plus.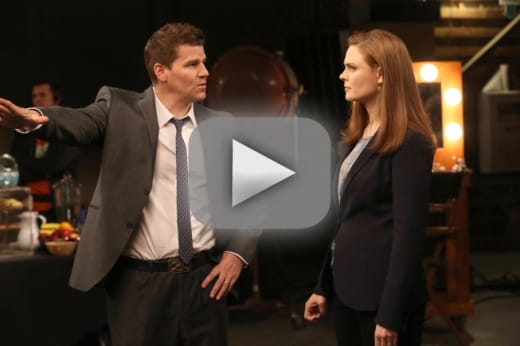 Cam, as always, had the best lines and a lot of compassion for Finn, even after what Michelle did. I like her character more every time she's on; I just wish there was more of her.
The ending was a hoot with Booth grabbing the chalice like it was the Stanley Cup. My team just made the first playoff round this week. Wonder if he knows?! Wrong side of Pennsylvania Booth!
If you want to see more of the team at work, watch Bones online!
Do you think Michelle made the right decision breaking up with Finn?
Carissa Pavlica is the managing editor and a staff writer and critic for TV Fanatic. She's a member of the Critic's Choice Association, enjoys mentoring writers, conversing with cats, and passionately discussing the nuances of television and film with anyone who will listen. Follow her on Twitter and email her here at TV Fanatic.