On Nashville Season 2 Episode 18. Deacon said that "there is a limit." 
If that's true, most of the players on Nashville are about to meet theirs.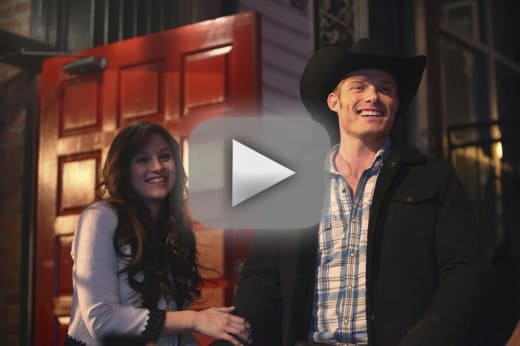 Everything always gets a little more heightened when shows are put on and tours kick off. It's probably because these performers are in their natural element. Then again, the off-stage drama could definitely rival whatever is happening on stage.
I don't think it had fully occurred to me that Luke didn't know Maddie was really Deacon's daughter. For some reason, I thought Rayna had clued him in. Probably because she should have, but I'd say their talk seemed more levelheaded than not.
Luke was right, though, Rayna needs to fix her family drama first.
In lieu of harsher words, I will just say that Teddy is a jerk. He's had it out for Deacon since day one and it always seems like Deacon is trying to be the more accommodating laid back one.
Deacon: I don't think part of her punishment should be taking away her music.
Teddy: Music is the problem and you can feel free to give me parenting advice once you've actually raised a child for 14 years.
I totally get that Teddy raised Maddie for 14 years; believe me I know that DNA does not always earn you a special title.
The thing is, Deacon's not even trying to take Maddie away or do anything bad. Plus, Teddy just slept with Deacon's serious girlfriend! It's like he's even meaner since the incident when any normal person would probably be nicer out of guilt.
I laughed when Deacon was mad and said "screw Teddy" because looking at Megan, my response was "literally."
Well, that cat is out of the bag now and Deacon is off to spiral down what is sure to be a bad road. However, he needs to get his crap together and be an adult because another cat is out of the bag and he needs to help handle it: Maddie's identity.
I admit I didn't even really focus on why Rayna had shielded her daughters from the media all of these years. It was obvious Luke's son Colt was going to find Maddie on the Internet when we saw how keyed into the online music community he was. Her need to protect her loved ones is why I love Rayna so much.
Rayna's speech about protecting Maddie because of how much she loves her is probably the only thing that got through to Maddie about her behavior and latest rebellion. Teddy was just handling it all like a tyrant, but you all know my opinion of him.
Luke, Deacon and Will were dynamite up on that stage together. I'm glad Gunnar stuck up for Will to Jeff Fordham because even if he doesn't support what Will is doing he will be loyal to his friend and keep his trust.
Meanwhile, over on Juliette's tour, her green monster of envy was rearing its ugly head.
Her set was awesome as well, but she always has to focus on the bad stuff! The only reason Avery is going to leave her at this point is if she pushes him away. Thank goodness they had that talk at the end.
Juliette: I do, I do trust you, which scares me even more. You have my heart, you're capable of destroying me.
Avery: I would never do that.
Also, I found it interesting that Juliette was the only person who realized that Scarlett is probably on drugs. How has no one else picked up on it yet?
So... is Scarlett headed for a total overdose and meltdown?