New Girl Review: Lake Father, Lake Son

Gabrielle Moss at . Updated at .
Even on a show that frequently delivers the unexpected, New Girl Season 3 Episode 20 seemed intent on raising that bar, delivering the absolute last thing that I (and probably you) expected to see during this half hour.
After 19 episodes of getting along pretty danged well with each other (not to mention two prior years of non-stop sexual tension), JessiNick's end came as suddenly and unexpectedly as their first kiss in New Girl Season 2 Episode 15.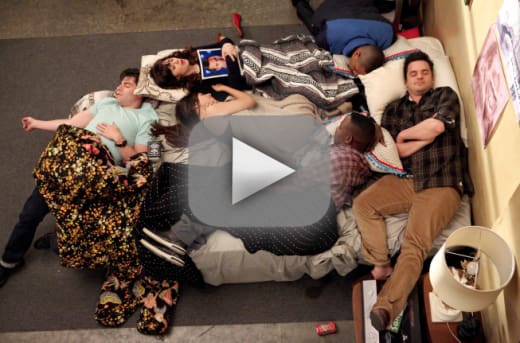 JessiNick - or were they Nickica? Ness? Jick? Was the lack of a good compound nickname what eventually tore them apart? - ended with not a bang but a whimper, which is perhaps true to real life... but didn't necessarily feel true to the show.
Jess and Nick's break-up seemed less the inevitable product of some obvious incompatibility, and more a function of phenomenon that has plagued New Girl Season 3: lack of dramatic tension.
Which is unfortunate: after floundering through the season's first half, the last few episodes of New Girl  seemed to show that the writers had finally figured out how to create dramatic tension without using Jess and Nick's relationship as a point of friction.
The recent three-episode arc featuring Linda Cardellini as Jess's troubled sister in particular seemed to prove that there was a way to create interesting conflict (and great New Girl quotes) on the show without needing Jess and Nick to be at cross-purposes.
So, where can things possibly go from here?
A reconciliation is clearly in the cards somewhere down the line, not only because these two crazy love birds are meant for each other, but because if they were actually permanently broken up, why the hell would they still be hanging out all the time?
(Yes, yes, Schmidt and Cece, I know, I know... but having two broken-up couples constantly hanging out together would push the limits of reality even further  on this show - and the idea  that a group of at best semi-employed people can all afford such a nice loft has already pushed them pretty far).
But what do you think?
Is this the end for Jess and Nick?