I hope Emma was able to rest up during her "New York Serenade."
Because it looks like her life is about to take another turn, as something wicked arrives in Once Upon a Time Season 3 Episode 12.
But let's start off in the Enchanted Forest.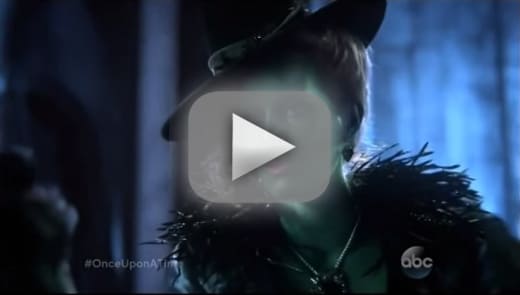 When everyone arrives, they immediately run into Prince Philip and a very pregnant Aurora. You'd think they could at least give their old friends a heads up that there's a new villain in the kingdom - but Aurora's dead set against it and even Philip doesn't say a word. I never was a big fan of these two. 
I loved the changes that have occurred between Snow and Regina. It's best for the kingdom if they band together. but there are doubts as to whether Regina is really on board, until Snow finds her burying her own heart.
Regina's in such pain knowing that she'll never see Henry again that she removes her heart to stop it. But Snow knows how she feels. She's had to give up her daughter twice. Hearing her empathize with Regina and convince her to feel the heartbreak now in the hopes of feeling more later was one of my favorite scenes. 
And it was quickly followed by one of my favorite Once Upon a Time quotes. as Snow tries to get Regina to run from the flying monkey only to have The Evil Queen stand her ground.
I don't run from monsters. They run from me.

Regina
She might be heartbroken but she's certainly not about to turn from a fight. Even the protection spell on her castle got her ire up. Regina was looking for a fight, but it will have to wait until they figure out the identity of their nemesis. 
By the end, Regina and Snow were talking like sisters about the new boy in town when Robin Hood showed up.
Snow: He's kind of cute, huh?
Regina: He smells like forest.
Back in New York, Emma looked happy. Granted, she wasn't squealing in delight and saying yes to Walsh's proposal... but still. She appeared more content than we've ever seen her. 
However, Hook was not to be dissuaded, even when she had him thrown in jail.
I've been in my share of brigs but nothing as barbaric as these. They force fed me something called bologna.

Hook
Oh, how I love Hook. Despite swearing he'll always be a pirate, he's the guy that tracked Emma down in New York in order to save her family, which makes me wonder what has happened to Neal. 
Emma looked so sad when she had to tell Walsh that it was over. I really felt for the guy, until he turned into an evil flying monkey. I'll admit, I never saw that one coming. 
Looks like her new life wasn't all the perfect after all.
Now, somehow everyone who was transported to the Enchanted Forest is now back in Storybrooke - only we don't know how or why. And neither do they. Yet in that missing year Snow became pregnant so time has obviously gone by, even if they don't recall it.
We've certainly got more questions than answers. Is Rumpelstiltskin still alive? Exactly who was returned to Storybrooke and why? And how will Regina react when Henry only knows Emma as his mother.
It certainly looks as though this will be a wicked second half to Once Upon a Time Season 3.
Tell us, TV Fanatics, do you like the new relationship between Snow and Regina or do you prefer them as sworn enemies?
C. Orlando is a TV Fanatic Staff Writer. Follow her on Twitter.