Where to begin after an episode like that...
When Mickey and Frank are the ones completely surprising you, that's how you know it was a great installment of Shameless.
Shameless Season 4 Episode 11 brought some unexpected admissions from a few of our characters.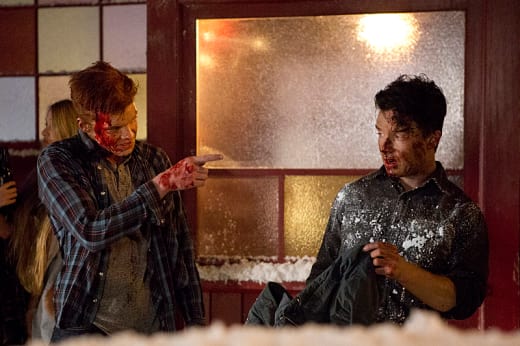 First, I need to admit how ashamed I am for writing about television as my job and not even knowing that Mickey and Ian had a shipper name: Gallavich. Oh, you didn't know either? Go hit twitter and you will see "Team Gallavich" hashtagged across the boards!
Yes, this was a big episode for Ian and Mickey. After Carl asked Ian if he and Mickey were a couple, it seemed to flip a switch in Ian to ask Mickey what their deal actually was. When Mickey told Ian not to come to his son's christening, Ian went anyway. Of course, Mickey's wife whose name I don't really care to know or remember, was really pissed about seeing "orange boy."
Well, Ian put his foot down. 
He called Mickey a coward after sitting depressed at the bar downing drinks. When he walked out and told Mickey not to bother stopping by, that was the moment that flipped the switch for Mickey. Despite fearing his father's return, Mickey came out of the closet.
Most people probably already figured out it and went back to drinking and chatting. Terry Milkovich, the homophobic psychopath and rapist that he is, flipped out and a huge fight broke out. When it came time to arresting Mickey and his father, the cop ultimately let Mickey go.
Why? Because hauling Mickey in would be a lot of paperwork and he wanted to go home to his husband. You never know how setting yourself free and telling your truth might affect others.
The rest of Shameless wasn't exactly feeling too free this week. Matty's new girlfriend bribed his stepbrother to get Debbie's shirt off while the whole school took pictures and then posted them online. Debbie cried and Matty ended up dumping his girlfriend and offering to make it up to Debbie by taking her to the dance.
Fiona is in a correctional facility for 90 days, so she is the opposite from free. Fi's incarceration meant that everything was resting on Lip. However, the kind of guy Lip is meant looking at the situation and deciding to do yet another favor.
Wanna torture your parents? Bring them to my house for dinner tonight. Here's the address. We're having leftover lasagna I stole from the cafeteria. Don't ever say I'm not a man of my word again.

Lip
Between Carl bringing home Bonnie's huge homeless family and the already crazy Gallagher situation, it was a great time for the social worker and Amanda's parents to show up. 
Amanda's parents offered Lip $10K to stop seeing their daughter. He took it, but it was really his and Amanda's plan the whole time. The social worker was impressed that Lip would take in a bunch of homeless kids on top of everything he was already dealing with. Her admiration meant no more surprise visits.
Lastly there was Frank. In a post-operative state of delirium, he imagined everyone was different people. In particular he thought the heart transplant patient next to him was Fiona. When he apologized for that time he left her and Lip in a freezing park because he and Monica got drugs I was shocked.
I promise, I'm gonna be a better dad.
So is this a revelation for Frank? Is he turning over a new leaf with his new liver?