Well, a couple of our TV Fanatic commenters called it! 
At the tail end of Star-Crossed Season 1 Episode 4, the father of Gloria's young Atrian son was revealed.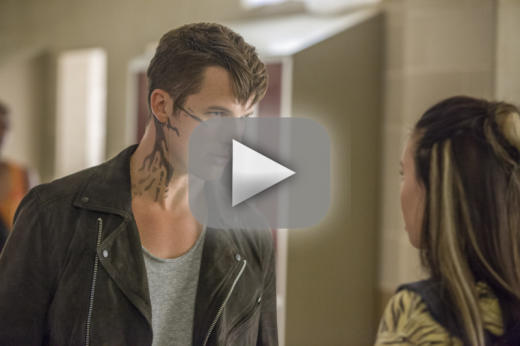 After a violent search through Roman's family pod, it was discoverd that Nox had a secret phone. The only people in Atrian society who have secret phones are the Trags. Refusing to believe his father was a terrorist, Roman enlisted the help of Julia and Lukas to try and retrieve any information he could about the phone.
Lukas figured out that all of the communication was between Nox and one other number. The last thing he found was an encrypted video. Just as they started to watch it, Gloria pulled Roman into her office and shattered the SIM card.
Lukas's technology showed that the other phone was nearby but the signal was lost when it traveled to the suburbs.
Later on, we found out that it was Gloria. Castor was on her side and helped her make sure nobody saw the content on the phone and Roman didn't know the truth. That truth being that Nox fathered Gloria's child. The video of the kid swimming brought a tear to Gloria's eye and mine as well. 
Meanwhile, back at school, some major interspecies moves were made. There may be a lot of hate spewed between the Atrians and certain humans, but underneath it all there is a great deal of curiosity. Also, Atrian or human, these people all have one thing in common: teenage hormones. 
Drake and Taylor are totally gonna hook up by the end of the season and I doubt I'm the only one who is calling that! Zoe was a little more involved this week, giving some fuel to the Star-Crossed Round Table participants who think that Zoe might be the hidden Atrian. 
So does that mean an Atrian and a human could get their intergalactic freak on?

Zoe
Sophia is curious about human society and wants to be more involved. Emery encouraged Sophia to pursue this and helped rally behind her when Sophia wanted to join the swim team. I have to say that hearing Aimee Teegarden talk about "making it to state" brought back so many Friday Night Lights feels! 
I will say that the fight was a very FNL moment. No matter who hated whom, when a fight broke out the whole team fought together. The rival swim team pretended to make a peace offering and offered Sophia a sports drink that had caffeine in it. Atrians are allergic to caffeine and she couldn't breathe.
I love how Teri "used her words" before head-butting that rival chick. Hey, she deserved it!
What you're saying makes me feel unwelcome and filled with rage. There, I used my words.

Teri
Grayson got in on the fighting, kind of proving that maybe he isn't a total Red Hawk. Heck, even Eric got in on the action.
It was great to see them all united for once. What Gloria was saying about how sports has helped integrate people in the past and help with the acceptance of minorities was a really interesting point. So... how long do we think this little cease-fire will last between the students? 
How jealous to you think Roman was at seeing Emery and Grayson's kiss? Will he swoop in and make a move now?