With only one episode left until the mid-season finale, Switched at Birth Season 3 Episode 10 gave us a bit to whet our appetites while we wait.
There were some interesting complications that arose in what were once simple situations.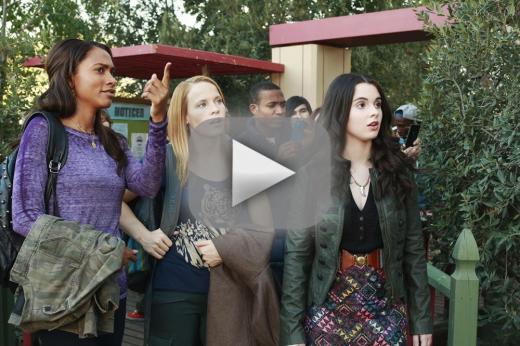 Nikki surprised Toby with a visit, but it didn't come with a happy ending. They played house for a couple of days before she broke the news that the church offered her a position in Africa. 
Nikki's dream has always been to work for the church and in a way where she could be hands on. She's been given the chance of a lifetime. She admits that Toby was a part of her healing process after her father died, but what she's being offered is far greater than that.
Toby's position at Carlton, while not in the same caliber as what Nikki is doing, is satisfying him in the same way although he hasn't yet realized it. When it dawns on him that they cannot remain married on two different continents, it's not a happy realization.
Regina is still working for Wes, but his designs on her are becoming more apparent. Just after awarding her a new car for all of her hard work, he asked her to get a small business owner to sign away their shop. She managed it under the belief that it was a good deal.
When Wes was shocked at how quickly she achieved it and that there was no push back and then silenced his assistant when she was ready to exclaim how amazed she was at Regina's work, it was obvious that he robbing the patrons of Regina's hometown blind.
John later confirmed that fact when Regina asked him to look at the contracts she was delivering for Wes. The real kicker to it all was when Wes made her feel poorly for not getting extra work done so she could go see the girls play their last field hockey game. Any hopes that Wes might turn out to be a decent man are gone.
Bay apologized to Tank for getting him in trouble with his fraternity and they defaced the Buckner school statue before the big field hockey game together, but she still balked when it came to making out with him. I guess there is no such thing as making out anymore, because after 15 seconds of kissing the topic was full on sex, something she wants to wait to do again until she knows what it means to her.
Or... until the person is right. Bay was also helping out Emmett with his long distance girlfriend as a way to be "OK" with him dating someone else. Apparently it's OK for her to date someone else, but not him. What's going on with Mandy, anyway? Have they Skyped? I can't remember, but if she's sending Emmett stolen photos as her own, something's off. It doesn't seem like Emmett would be easily scammed, so there has to be more to this story and it seems we'll find out next week.
As sex was on the mind, I found it extremely odd that the only thing Daphne was really concerned about when it came to her decision whether or not to date Campbell was that she didn't know how that would work. All he had to do was pull her onto his lap and all of her concerns melted away?
He's still in a wheelchair and they'll still face a lot of challenges. He's not just physically handicapped, but with a serious brain injury, there are many things about him she may not know. It's not awful to want to know what your getting into before making the choice. 
Next week looks like a powerful finale. I hope some of you might be willing to jump in and chat about the show.  If you want a refresher about all of these storylines, watch Switched at Birth online to get caught up!
Is Emmett being scammed by "Mandy"?
Carissa Pavlica is the managing editor and a staff writer for TV Fanatic. Follow her on Twitter.