Ahhhh. So bold and so beautiful. What happened last week that might make this week really exciting? Let's find out...
Those crazy kids on The Bold and the Beautiful don't take too many pauses to revel in their feelings, do they? Aly was on a rampage trying to oust Wyatt and Quinn from Forrester, but she didn't get as far as she liked. She did make an impact on Hope, however, and one of Wyatt's plans fell through. 
Bill walked in like the manly man that he is and laid his cards on the table for Brooke -- he wants her, but being without her makes him do bad things. She had no idea what he was talking about. Our screen capture is a hint.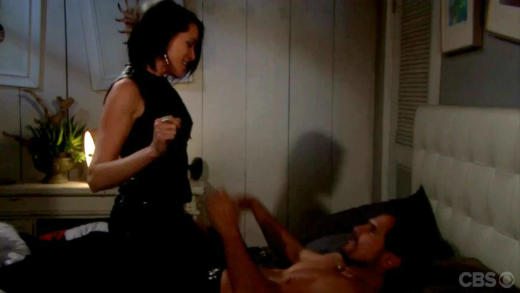 Woah! Is that a whip in her hands? Why yes! Yes it is. Quinn rediscovered Bill a little while back when she kept coming over and he was always sans a shirt. Who are we to argue? I can't think of another man in daytime who has aged as well as Don Diamont who plays Bill. He's fine!
Quinn was just getting around to making some moves when Katie and Ridge happened. Although she knew Bill was over at Brooke's trying to win her back, she also bet on him coming home alone. She was right. She lay in wait and jumped him when he walked into his bedroom door. Just as passion had overcome them both, Liam knocked at his door. 
As we roll into the week, Quinn is in the closet while Bill and Brooke talk. I don't think anything either of them say will stop her from trying to carry out her devious plan, but Bill is pretty smitten with Brooke. Bill will likely toss Quinn out on her butt but it will still be fun watching her scheme!!
Their son, Wyatt, was also waylaid as he attempted to get Hope into some lingerie for a Hope for the Future line of boudoir attire. Really, the idea was ridiculous but Hope was buying into it for a while. She's in the midst of her own personal sexual revolution. Why not at least mull it over?
She was on board until she heard out Aly as a favor the crazed girl. Her point was something like what's our hope for the future supposed to be? Prostitution? Well, not that bad, but if she could have driven that home she would have. The board voted to allow Hope to do whatever she wanted, and in the end, Hope decided against the line, at this time. There's still hope for the future! Ha!
Liam thought what she did was courageous and as he shared that sentiment with her, he kissed her while Quinn peeked in through the door. If anyone thought that meant an automatic pass on Wyatt to go back to Liam, well, think about this.
Wyatt had one of the pieces for the line ready for Hope to try on for his own private showing and decided he wasn't ready to have his girl showing her stuff to anyone but him for the time being. I don't think Hope is going to let him go as soon as some people may want.
Since Thorne came back to town to help rein in Aly, I was hoping to learn a little bit more about what's been going on with her, but no such luck. Oh well. It was nice to see his face again.
I've been reading on some boards how much some people hate Hope and Wyatt together and think they make out too much. I'm of the opinion that there is a lot of sexual innuendo in this 19 minute program to make up for the lack of it (or hardly any romance whatsoever) on The Young and the Restless. So what do you think? 
Do you enjoy the fun, flirty scenes that feature kissing and couples enjoying each other or would you rather they spent more time on conversation? Talk about it!
Do you want Hope to stay with Wyatt?
Carissa Pavlica is the managing editor and a staff writer for TV Fanatic. Follow her on Twitter.