The Walking Dead really did go there on Sunday night.
In a move that still have fans buzzing, Carol shot and killed Lizzie on The Walking Dead Season 4 Episode 14, "The Grove."
Why did the series go there? Why did it follow this shocker with Tyreese actually forgiving his friend? Where could things possibly go next?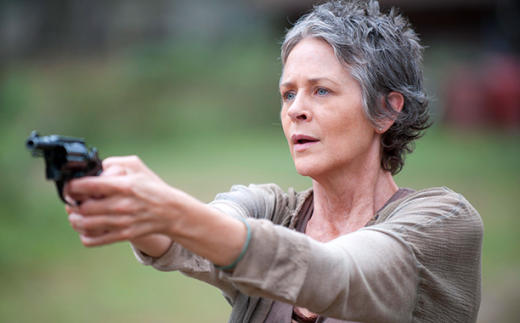 Entertainment Weekly spoke with Showrunner Scott Gimple about the development in detail and you can visit the official EW site for this full interview.
A few highlights:
Gimple and the writing team had the storyline in mind from the beginning because something's similar took place in the comic books.
The goal was to build to the moment properly and not create a shocking scene purely for the sake of shock value.
"This was not a story that was sensational," he says. "We weren't exploiting anything. It was something that was very much a part of Carol's story and very much these girls' story and very much a story of this world, and I felt that from the jump we had a very sensitive approach to it. No matter how extreme the end was, we weren't just doing it for shock."
Why would Tyreese actually forgive Carol for her actions?
"It was very important to me that in the context of such darkness, there be some light," Gimple explained. "And Tyreese is a character, being such a humanistic character, that's the way I believe he would go.
"I'm not excited about things that are just relentlessly dark - that are just one thing. I get excited about stories that really do show every part of the human experience, and even in that horrible, horrible, horrible situation, there was some good that came out of it. There was grace."
Gimple added that the series, as its "core," is "hopeful," but this can be a "crushing" thing because every reminder of something happy is also a reminder of all that has been taken away.
Where could the drama possibly for on The Walking Dead Season 4 Episode 15 and beyond?
"To the emotional conclusion of the season. Both episodes are really big episodes," Gimple teases. "There are some insane things that happen. There are some tragic things that happen, There are some things that happen that are hopeful. And there is just some remarkably dark stuff."
Where do you stand on this shocker? Should Carol have killed Lizzie?
Matt Richenthal is the Editor in Chief of TV Fanatic. Follow him on Twitter and on Google+.