Twisted Review: Single White Male
Leigh Raines at . Updated at .
Well, according to Twisted Season 1 Episode 17, it looks like Whitney isn't Tess's long lost daughter after all.
But Whitney is interested in Lacey...as more than a friend!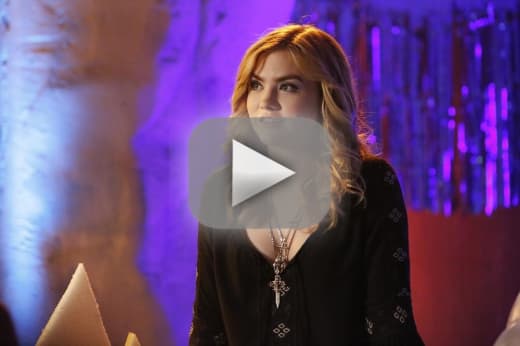 This week's Twisted was centered a lot around the tension between Charlie and Danny. After the blowout fight between Jo and Danny at the end of Twisted Season 1 Episode 16, Danny was extra suspicious of Charlie. After all, he had just spilled to Jo what Danny vented in juvie saying that he wanted to kill his dad.
For some moronic reason, Jo and Danny thought it'd be a good idea to set Charlie straight. They told him the truth about the night Vikram died. Didn't they realize they were just feeding him more information that could make Danny look bad?
Besides, Charlie thought Vikram just was killed in a car accident like the rest of the world thought. 
When Danny did some digging into why Charlie was in Green Grove, he found a missing childhood picture of Danny, Lacey and Jo that he thought he lost in juvie. Little did he know that Charlie had pocketed it.
Charlie said he just wanted a fresh start somewhere new and that Danny made Green Grove seem so great. Do you buy that?
Charlie's 18, he could have gotten his GED and a job and started anywhere anew. Why enroll in high school and specifically seek out Danny's friends? Charlie seems to be equally suspicious of Danny, so I'm sure there's a lot more to both of their stories than we know.
Karen and Tess mended fences and Karen ended up helping Tess find the information about who Vikram let adopt Tess's daughter. When Tess mentioned that Vikram thought someone from work was trying to kill him, Karen instantly thought of Jack.
Freaked out she went to confront him, but she didn't quite get an answer. 
Chief Masterson thought a few steps ahead and got some of Jack's DNA to test against the hairs he found in Vikram's car. Sometime must've added up because now Jack is down at the police station. So... what do you think Jack is guilty of?
On a more positive note, Rico and Andie had a great date. You could tell that Andie thought Rico was trying to get into her pants by how nervous she was when he mentioned watching a movie at his house. Alas, Andie had nothing to worry about.
I'm a virgin too. A big one.

Rico
Whitney and Lacey had some fun at the club, but not before Whitney caused some trouble by calling some cheating man's wife with his stolen phone. Did that scene remind anyone else of Blair and Jenny at the club in Gossip Girl season 1?
Then, at the end, Whitney ended up kissing Lacey. I certainly didn't see that one coming!
So what did you think of this week's episode of Twisted? Is Jack guilty? Who is the bigger threat, Charlie or Danny? Does it seem to anyone else that Charlie kind of wants Danny's life?