As the weather here in NYC grows warmer, I'd be remiss to forget the one time that things grew so hot in the Big Apple that there was a blackout. 
Of course, I'm talking about Gossip Girl season 2 episode 3, otherwise known as "The Dark Night."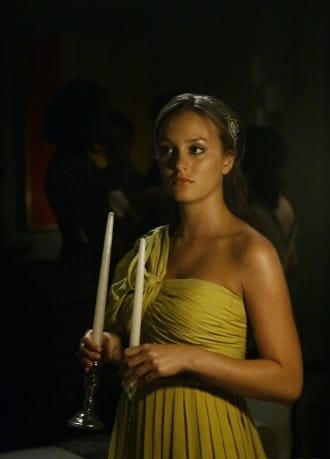 Blair rushed back from the Hamptons in Gossip Girl season 2 episode 2 to throw an impromptu "mature" party that would be worthy enough for Lord Marcus. Aside from Blair busting Nate and Catherine in the library, the party sucked.
Now that they're back on the Upper East Side for good, Blair was back in her element. The only thing she couldn't handle was a distraction. Too bad her big party coincided with the timing of her bestie dropping the bomb that she and Lonely Boy were back on.
Blair acting like a bitch was nothing new, but she did have one really good point. Did Dan and Serena work out all the issues that broke them up before they decided to get back together? Nope, they didn't.
Serena: I forgive you... for Georgina.
Dan: And I forgive you ...
Serena: We keep having this same fight. At Bart's brunch, a year ago. At the wedding...
Dan: Where we talked about the fight at Bart's brunch.
Serena: And now here. [pauses] I can't change who I am, Dan.
Dan: Me neither.
And when they were trapped in that elevator during the blackout, all of the issues came floating back to the surface. It was only a matter of time before things bubbled to the surface after those mini Blairs and Serenas accosted them in Central Park.
Also if Dan was really Gossip Girl the whole time, how messed up was it that he would post a poll about whether or not he and Serena should be together? Or was it actually a brilliant way for him to get another opinion as he contemplated whether or not he should get back with Goldilocks.
Back at Blair's party, Chuck was teasing Blair about how she and Marcus probably have a crappy sex life. He was right. But Chuck was only using Blair as "sexual Draino" according to Serena. 
Chuck was having a little problem with his um...ability to perform. Excuses, excuses, Chuck and Blair were always just drawn together like magnets. When she pretended she didn't know it was really Chuck who told her to blow out her candle and meet him in her room? Oh puhlease!
Queen B needed to feel wanted. Something she surprisingly had in common with the Duchess.
I think I truly felt bad for Vanessa in this episode. She genuinely cared enough about Nate to back off and do what she thought was best for him. He opened up to her and she put his needs above hers.
Dan: Why'd you tell him to stay with that woman? Y'know, I thought you liked him.
Vanessa: I do. That's why I did it.
Dan: I don't understand.
Vanessa: She told me that if Nate left her, she would go to the FBI and tell them where Nate's dad is hanging out. So ... I really didn't have a choice.
There was stuff about little J and Rufus in this episode too, but nothing exciting enough to recap. If you feel like feeding your GG nostalgia, don't forget you can always watch Gossip Girl online.
So Nate and Vanessa: Yay or nay? Vote below and sound off in the comments! More reviews to come all spring and summer long.