That was quite a different Raymond "Red" Reddington that we saw on The Blacklist Season 1 Episode 20.
Instead of being confident and having people indulge his every whim, Red was afraid and failed to gain the assistance that he needed. He's being targeted by an unknown person or entity and The Kingmaker was his only lead.
He brought the criminal political strategist to the FBI's attention, but it didn't work out like he wanted.
For a political mastermind, the FBI didn't have much trouble finding and tracking down the Kingmaker. I guess if Red hadn't brought his existence to the FBI's attention, they probably wouldn't have even realized he was in town. The Kingmaker didn't cover his tracks well, but maybe he was arrogant enough to believe he would never be caught.
The concept of the Kingmaker made me wonder about our current politicians. Have any of them manipulated their way to the top? Many of them certainly did, but perhaps not through such illicit methods. This episode reminded me of House of Cards​, however the Kingmaker was no Frank Underwood. I'm not sure anyone could ever match Frank's conniving and evil ways.
The heart of the story was that Red has no friends. He has business associates, enemies, and conditional allies, but no friends. Throughout the season, there have been hints that someone has been targeting Red and it finally became clear when his Prague politician contact was framed for murder.
This person or organization has been playing the long game by planting Tom in Liz's life, assigning Jolene to trail Red and interfering with his business. Red was desperate enough to go to Alan (previously known as Fitch) for help. That mysterious organization was tired of being held hostage by Red and whatever evidence he may have against them. They refused to help. 
I'm more intrigued by Alan and his organization now than ever before. They broke into the Post Office and killed people to make a point, but then left Red alone. Now, they are willing to be compromised (still not sure how) to leave Red on his own. After they denied his request, his only lead was the Kingmaker.
Oops! Ressler shot and killed the Kingmaker to save Liz's life. I wonder if Red would have taken that shot if it meant losing his only lead on his enemy? He's gone to great lengths to protect her in the past, but he's desperate and afraid right now.
His day went from bad to worst when Liz found out the truth about her father's death. He lost his person. His connection to Liz remains unclear, but he deeply cares about her. I'd say that Red hit bottom on that day, but I fear his situation is only going to get worse.
Liz: Were you in the hospital room when he died? Did you kill my father? Did you kill him?Red: Yes.
Liz: I was right. There was something he wanted to tell me before he died and you didn't want me to know.
Red: It's not quite that simple.
James Spader has been exceptional throughout the series and that final look on Red's face was a perfect example. It was so sad. Liz said some very mean things, but they were accurate and deserved. These two will likely find their way back to each other, but I hope it only happens through honesty. Red needs to tell Liz the truth whether it's simple or not.
I feel absolutely sympathetic towards Liz. She's lost. Her husband's a liar, Red's a liar, and all she's left with is the job. She doesn't have any family and we've never seen her with any friends. At least she didn't shut down and close herself off, instead she went to Donald's place.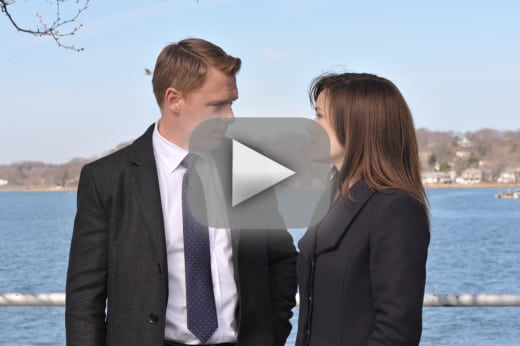 I don't want to see them in a romantic relationship, but she can use an honorable friend and he's a good choice. I hope she opens up and tells him what's going on. Of course, he could be another plant, but I really hope not.
With only two episodes left, The Blacklist has many unanswered questions. I'd like to see at least a few of those answered. The series has been renewed for season 2, but that doesn't mean there should only be cliffhangers and no resolutions. What would you like to be answered by season's end?
We're done. I'm done. This ends right now. You're a monster.

Liz
Will Liz make up with Red before the end of the season?
Carla Day is a staff writer for TV Fanatic. Follow her on Twitter and on Google+.