When Jarl Borg invaded Kattegat, I found his actions cowardly because Ragnar and his best warriors were away raiding. Where was the challenge in that?
Tonight, on Vikings Season 2 Episode 6, Ragnar proved himself no better by luring Jarl Borg back under false pretenses to exact his revenge.
I guess all's fair in love and war, even for Ragnar, who - according to Siggy - is different and unpredictable. Not so much Raggy and honestly, I'm a bit disappointed in you tonight.
Sure, I understand the decision, but the sneaky execution of the plan and the way things went down was not very honorable. He played dirty for the first time.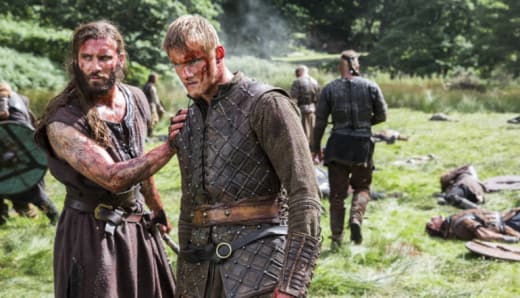 Things kicked off with Siggy visiting the Seer. She is officially playing "the game" now and craves her old position. You know, the wealth and being wife of the Earl (or King perhaps?). In the meantime, she will have to settle for bedding Horik and his teenage son whenever the mood hits. FYI Siggy, saying you're not a whore and proving it are two completely different things. 
King Horik tells Ragnar that his talk with Ecbert was completely in vain. The King of Wessex seized the first available opportunity to ambush them. I loved that Ragnar immediately asked about Athelstan. Horik's answer surprised me, especially when he called the former monk a worthless individual.
After Athelstan stayed behind to translate and help the Viking cause, that's how Horik regards him? Those comments made me dislike the guy.
Bottom line, Horik and Ragnar have lost too many men and ships. Jarl Borg has men and ships, therefore Horik wants to reconcile with Borg. He nominates Rollo as their ambassador. It was great to see Rollo step up and take on this challenge without debate.
Slave girl Porunn spills a little water on Bjorn and it appeared the dude was instantly smitten. Can you blame him? He later flirts with the pretty young thing and asks if she has a boyfriend. Porunn tells him she does have a boyfriend but was this true or was it just to get him off her back?
Back in Scandinavia, Lagertha has returned to her husband. Earl Sigvard gives her a hard time about leaving and seems especially unpleased that Bjorn stayed behind. Jealous that Lagertha is still in love with Ragnar, her husband has her beaten by his soldiers in her room.
In Götland Rollo tells Borg that Ragnar would like to rebuild their original alliance. Borg reluctantly agrees after seeking counsel from his first wife's creepy skull. Kissing the skull is right up there with licking the Seer's palm. That reminds me, it was Siggy's turn to lick the palm tonight... gross!
King Ecbert, meanwhile, has struck up an interesting relationship with Athelstan. The King watches him paint and calls it divine. Athelstan talks of the similarities between the Pagan gods and their Christian god. Ecbert confesses he feels the two of them are kindred spirits.
Ecbert and Athelstan bond more intensely over their appreciation of the Roman paintings before them. The Romans were Pagan and their gods allowed them to rule the world, Ecbert explains. What lesson can they learn from the Romans he wonders.
The King sharing his room of Roman artifacts and parchments was an important step in their relationship.
I've chosen you to be the guardian of these books and their secrets. I want you to copy them.

King Ecbert
Is King Ecbert only strategizing here or does his interest in Pagans and their gods run deeper? I am finding the Athelstan/Ecbert relationship fascinating and wonder if Athelstan's role in the bigger picture is to document the events of the time.
Jarl Borg and Rollo return to Kattegat. Soon Borg finds himself face to face with Earl Ragnar Lothbrok. The fact that Borg admitted that Ragnar is a greater man than he for putting the invasion behind them, made the eventual outcome more disappointing. He was making peace, a new start.
The turn of events with Lagertha was a long time coming. A mistreated and bruised Lagertha turns on her husband when he exposes her breasts to everyone gathered in the great hall. She reacts instinctively and stabs Sigvard in the eye. While his death was inevitable, wouldn't Bjorn or even Lagertha ending him have been most satisfying? Who was that random dude? What happens next, does she take over as Earl or head back home?
I will have to go back and listen to the Norse fairytale Aslaug tells her boys, but it seemed to go hand in hand with Borg being captured and beaten.
While Borg's men burn in the barn, Bjorn brings Porunn to his room and offers her his bed. Very smooth young Bjorn, but she doesn't quite trust you yet.
Bjorn: What if I ordered you to stay here?
Porunn: Then I would have to heed your command.
Bjorn: I don't want to order you. I want you to choose to stay here.
After chatting with actress Gaia Weiss who plays Porunn, I was really looking forward to the Bjorn/Porunn scenes and they stood out for me.
I thought the chemistry between Alexander Ludwig and Gaia Weiss was fantastic. Now I understand why she was cast opposite him. I'm hoping things work out for these two love birds, because Bjorn needs to interact with someone outside the family. This will be great for both characters.
It should come as no surprise that next week's episode is titled "Blood Eagle," as Ragnar condemned Borg to this Viking torture in the final scene. Quick historical note, this will not be the last time we see this type of execution on the show, as a very important historical character meets the same end. I won't spoil it for you guys, but curious fans can look up blood eagle on wikipedia for more details.
Major props to those of you that put two and two together and knew the Seer was talking about the blood eagle. Yep Jarl Borg himself is the eagle.
What did you think of the episode? Need to check it out again? Remember you can watch Vikings online right here at TV Fanatic.
Do you think King Horik will save Jarl Borg from his fate?