Could the cops be any more incompetent on Fargo? Seriously!
Of course, if they were as smart as the criminals, we'd be watching a Minnesota-based version of CSI, Law & Order or NCIS. Their lack of common sense, diligence and just investigative skills is part of what gives the series it's idiosyncratic tone.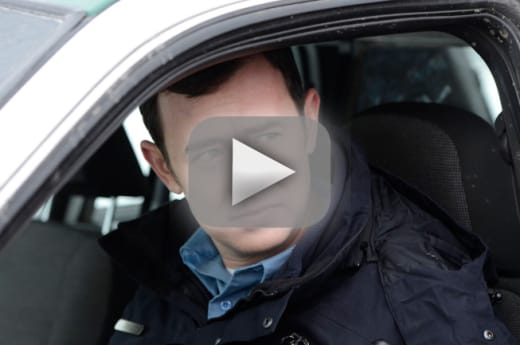 The first three episodes of Fargo Season 1 introduced viewers to the quirky characters, murders, and a blackmail scheme. In Fargo Season 1 Episode 4, the story turned to dealing with the Bemidji murders, while Lorne continued to torment Stravos.
At the beginning of each episode, we've learned a bit about one of the character's past and this week it was Supermarket King Stravos' turn. He moved his family to Minnesota without enough money to buy the gas necessary. He begged God to help as he was stranded on the side of a snowy road and his prayers were answered. Or so he thought when he found a bunch of money.
Since then he's betrayed the promise he made to God, which makes Lorne's torment all the more effective. After having his dog killed, a bloody shower, and now locusts infest his supermarket, Stravos will likely be willing to fork over the $1,000,000 without further delay. The first two were personal, but this last one will hurt his public image and ego too much to allow it to continue.
Stravos is so unlikable that I didn't mind seeing him suffer some, but then I remembered that it's Lorne who caused it. And, that man is no better. He's a despicable murderer, who goes around manipulating and corrupting people's lives. 
It's too bad the cops in this story are too incompetent to recognize Lorne for the criminal he is. Gus may not be the brightest, but at least he overcame his fear of Lorne and arrested him. He knew the man was up to no good. If Molly would have shown up in Duluth instead of Bill, the outcome would have been different.
In the end, it really was her fault that she didn't go to Duluth. She should have shared with Bill that she got the picture of Lorne kidnapping the frozen victim rather than trying to tie him to the other murders which Bill was investigating. That kidnapping photo was real evidence tying him to a crime.
Lorne's fake pastor routine convinced Bill and his Duluth counterpart, so the murderer was released just like he told Gus. "You're making a mistake." Yes they were, Gus. Only Lorne was just smarter and better prepared than the cops questioning him. He's going to be a tough one to catch.
Lorne has an innate ability to know exactly what to say to get people to react how he wants. It's quite impressive. It's unfortunate that he uses it to hurt people rather than help them. Since he was walking out the door a free man, he gave Gus something to think about to take his mind off the case.
"Did you know the human eye can see more shades of green than any other color? My question for you, is why?" Molly provides the answer for Gus, "A predator." Mmm. So what do they do now? It's all about Lester.
Lester's troubles shifted when Mr. Numbers and Mr. Wrench went after him. They were going to drop him into the frozen water for killing Sam Hess, but he got away. He thought he had outsmarted them by getting arrested, but they just got arrested too. That's not going to be a pleasant night in the cell from Lester. He'll likely be hurt by the Misters, plus there's always the risk his wound will be noticed.
This wasn't my favorite episode of the season. The Stravos storyline is the least interesting so far. I love anytime Molly is on screen. She may be downtrodden right now, but she's the only police officer who has a clue about what's going on. If Gus continues to follow her lead, he'll come out okay even if he's temporarily on desk duty.
Lorne's ability to manipulate people continues to mesmerize. I want to see him go down, but it's a fun ride to watch it all play out.
Who's the dumbest of the bunch?
Carla Day is a staff writer for TV Fanatic. Follow her on Twitter and on Google+.