Hart of Dixie Review: Back to the Beginning
Kate Brooks at . Updated at .
This began as quite the boring episode of Hart of Dixie. But it found its footing with an ending that was sure to make all Zade shippers happy.
When Annabeth's parents come in, they have a hard time letting go of Lavon, which finally pushes our beloved AB over the edge on Hart of Dixie Season 3 Episode 20. 
Just as things couldn't heat up more, Shelby pops into town and begs for Brick to take her back.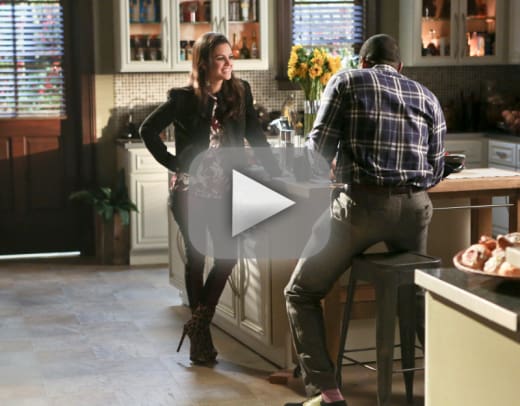 After seeing Hart of Dixie Season 3 Episode 19, I had enough of Lavon Hayes. Since his breakup with Annabeth, he has been throwing himself too many pity parties an,d to top things off, he had the audacity to act like a jealous ex-boyfriend.
The simple fact is this: Lavon broke Annabeth's heart when he said she wasn't the love of his life. He is the reason the relationship ended and, because of this, he has no right whatsoever to act the way that he has been.
To make matters worse, Annabeth's parents said they couldn't be mad at him. What is that about? This guy shattered your daughter's heart into a million little pieces because he didn't love her enough. How can they be all buddy buddy with him?
I didn't get it and I didn't like it. The only positive outcome of this scenario was Lavon confessing to her parents that AB deserved someone great and who could love her the way she deserved. Lavon, was that so hard?
Hopefully we can all get past this and start new because his character cannot stay decent if this version of him continues. It's demeaning and it's dreadful; awful and atrocious. Not much good has come out of this for Lavon.
On the plus side, my favorite ex of Brick returned in her usual dramatic fashion. Shelby not only brought back the desperation, but her adorable new daughter. I cannot say I was surprised to see Shelby want Brick back, as she has done this multiple times in the past.
Now that they've come to peace with their on/off relationship, will Shelby return to Bluebell again? My guess is... how can she not?
Elsewhere, Wade and Lemon were paired together while George and Zoe were up to no good. I had a few worries and revelations while watching these two pairings interact.
First off, Lemon straight up called Wade out for blaming Zoe for his breakup with Vivian. Not only did Lemon stick up for Zoe, she showed Wade that Zoe Hart is the girl who has always had a hold on his heart.
We all have known that Zade has been and will continue to be the core of Hart of Dixie and after some time away from this it seems once again that it is inevitable.
Secondly, I was extremely worried that George and Zoe were going to rekindle their brief and non-epic relationship. There was a moment of doubt but they proved to us all that they are destined to be friends and no more. After all of this time questioning if George was the one for Zoe, they said it themselves: they want to be platonic for a long time.
Their relationship would be easy whereas they both love difficult. Argument settled.
Lastly, the greatest revelation I had is that the writers surprised me big time. Since Hart of Dixie Season 1, I never imagined that they'd put George and Lemon back together. The crazy thing is I really love it, even more than I love the idea of Lavon and Lemon.
It's so surprising because these two characters really are different than their earlier counterparts and I believe these two finally have a shot at an epic romance.
Good things are brewing in Bluebell.
Overall, this episode bored me to tears in the first 40 minutes but the last 20 were worth the wait. The episode is titled "Together Again" and what this means to me is that we are back at the start.
George/Lemon and Zoe/Wade, this where Hart of Dixie began. We're back at the beginning... with a few minor changes, of course.
Who do you want to see get back together first?