Hart of Dixie Review: Hiccups
Kate Brooks at . Updated at .
As Hart of Dixie Season 3 comes to a close, we are left with quite the open ending. 
Thankfully, there's more action in Bluebell to come in 2015 because after Hart of Dixie Season 3 Episode 22, I couldn't get enough.
When Zoe, Lemon, Annabeth and Crickett get the hiccups as a result of hiding their true feelings, they have to come to terms with making the right decision. 
With Wade on the brink of leaving, a familiar face returns to Bluebell to convince him and Zoe that they are meant for each other. All the while, Lemon gives into Grandma Breeland's request to go onto the "desperation cruise."
Just as everyone seemed to reconcile and bring good news, an old love triangle emerges once again.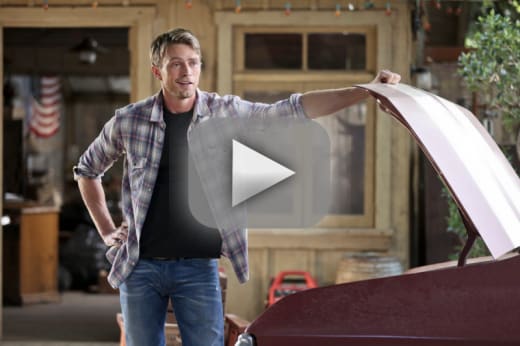 After viewing this finale, I can honestly say that I have faith that Hart of Dixie can still be restored to its former glory. We all know Hart of Dixie Season 2 was a rough ride, but I look back and I cannot believe how much has changed in just one season. 
For the first time in a very long time, I have found myself wanting Zade back together. I previously didn't think that Wade could recover from the character blow he took after cheating on Zoe, but I am glad to see I was wrong. People can change and do deserve a second change. 
That said, who knew that Joel would return to Bluebell and be the voice of reason... or Lemon for that matter?!? I was shocked to see Joel back - and I loved it! I missed him very much. The fact that he is the one that convinced Wade to stay for Zoe is remarkable.
[To Zoe] Don't let Wade leave without telling him how you truly feel. Who knows, maybe he feels the same way... God know why, you're so unpleasant and ugly.

Joel
For those of you who said you hated Joel and wanted him to go, what are you saying now? He's the big reason they're going to reconcile.
Not only Joel, but Lemon too. At the beginning of the episode, Lemon called Zoe out on her feelings for Wade, stating that Zoe moved back to set things straight with him... only to end up staying because she loved him. It's very true.
I was happy to see that Zoe worked up the courage to confess to Wade she still loved him. I understand why Wade was hesitant to get back together as he royally screwed it up the first time. We all saw how much he grew with Vivian. Lemon was also right that Wade and Vivian's relationship did bother Zoe.
Speaking of Vivian, we finally got the closure we all deserved. They came to terms with their relationship and Wade didn't want to stand in the way of their family. It was a great end to a great relationship. 
The only problem I had with this finale: Lavon. 
Lavon has been on my last nerve since he broke up with AB. He has been pouty, jealous and nothing but a pain. I used to really love his character, but they've completely ruined him this season.
The all-time low took place when it was revealed he had gone after Lemon. Come on now.
If you would have asked me last season who I wanted Lemon to end up with, I would have said Lavon with no question. However, this is not the case anymore. Lavon does not deserve it and Lemon deserves better. 
To be perfectly honest, there is no one more suited for Lemon than George. This relationship has so much history but, more importantly, it has chemistry. These two are completely different characters now and could really stand a chance together. 
Get out of the way, Lavon. I have a feeling that George just may be the victor in this fight.
Overall, this finale was the best episode of Hart of Dixie Season 3. It was a great way to tie up some loose ends and give us enough to wait until 2015 to get it. Did I mention that Wanda and Tom are having a baby, Annabeth said no to Davis and that Cricket is apparently gay? 
Things surely seem to be brewing in Bluebell - luckily for us, we get to see it all play out next year.
Who do you want to back together in Hart of Dixie Season 4?