Mad Men doesn't tell fast-paced stories - and that's where I see a major problem coming with the seventh and final season being split into two parts.
Each hour is intricate and detailed, not action packed and forward thrusting. We're more than halfway done with the first half of the season and I can't imagine a great cliffhanger moment that will leave us breathless in anticipation for the final seven installments the whole way out in 2015.
Surely I'll be wrong and Matthew Weiner wrote the impending seventh installment to act as a season finale (because let's not fool anyone, that's what it is). But if the remaining three are on par with Mad Men Season 7 Episode 4, there is a possibility it will feel like the book was closed in the middle of a chapter.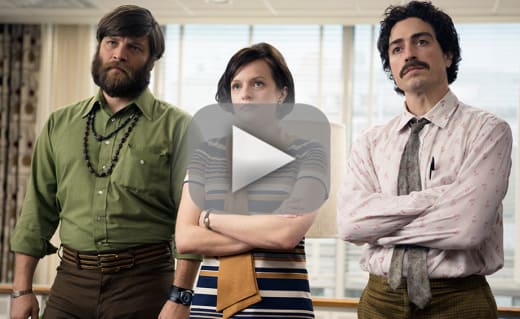 Overall, very little has been accomplished in these four installments. Don's marriage has fallen apart and he's back at the office. The first isn't exactly earth shattering and the second is still in its infancy. It's great drama, but is it good in short bursts? I guess we'll find out.
As a way to keep his hands clean and free of Don Draper, Lou gave Peggy a boost of confidence, a raise and a new account -- one in which he wants her to lord over Don and another ad man, some young fellow who is so below Don's caliber as to be unnecessary on the account.
Feeling rather royal, her highness immediately requested of her two underlings 25 tag lines, but didn't give them the time to get the research on the company to make them worthwhile. As Don gritted his teeth (after all, he has stipulations he must follow), he asked about the strategy only to learn that strategy now takes a back seat to tags. I'm surprised he didn't know this from his work with Freddie.
Although he maintains his decorum in Peggy's office, he trashes his upon his return, heads to Roger's to steal some liquor and ties one on. Thankfully, Freddie shows up to usher him to a Mets game and saves Don's ass from losing it all.
The office is getting its new computer. To make way for the behemoth, construction is underway and offices are being downsized. Nobody on the floor with the machine are all that happy with what's going on, but Don chatted with the guy. He wasn't a client and one of his stipulations wasn't don't talk to anyone.
He did learn, however, that the company was low hanging fruit and someone should try to get their business. Taking the tip to Bertram got him a tongue lashing about his stipulations and a reminder that they didn't fall to pieces in creative rubble while he was gone. What I would have given for Don to shout out his Rumsen connection at that moment. The arrogance of the firm is beyond. It drove him to drink, and I don't blame him.
When he and Freddie were walking out the door, Don took out his anger on the computer guy. He and Freddie never made it to the game and when he woke up the next day, Freddie gave him a tip.
Don: I want my job back.
Freddie: How the hell do you think that's gonna happen when you're at the bottom of a bottle? You know you never have to have another drink again.
Don: I don't wanna hear that right now.
Freddie: You're hung over. It's the best time to hear it. Are you just gonna kill yourself? Give them what they want? Or go in your bedroom, get in uniform, fix your bayonet and hit the parade. Do the work, Don.
Whether it was the kick in the pants Don needs to finally take over the world, we'll see, but he went into work and told Peggy he'd have her tags to her by noon. One step at a time. Never have I wished more for him to do well. Watching him suffer and sink even lower isn't entertaining. It's time for him to stand above the rest and prove his value.
Remember in Mad Men Season 7 Episode 1 when Margaret met with Roger to forgive him? I tossed it out there that she was probably joining a cult, and that's exactly what she did. Mona gives up on Margaret in short order, but Roger stays the night, getting high and sleeping under the stars with his girl. 
It seemed like it was going swimmingly until she went off to have sex with someone else. Roger's own foray into the mystical world of drugs and multiple partners apparently doesn't wear so well when on his daughter. Seeing in your child some of what you did yourself has to be cutting. Maybe he and Don both received the kick in the pants they need to get back into fighting shape.
Roger and Don had been letting the tides drag them along and they've both ended up in pretty ugly places in their lives. Their friendship was what started the firm and perhaps it can set them back on the right path again. 
You can always catch more when you watch Mad Men online here at TV Fanatic. While you're here, why not hit the comments and let me know what you're thinking over half way through this ridiculously shortened half season?
Are Don and Roger on the road to recovery?
Carissa Pavlica is the managing editor and a staff writer for TV Fanatic. She's a member of the Broadcast Television Journalists Association (BTJA), enjoys mentoring writers, wine, and passionately discussing the nuances of television. Follow her on Twitter and email her here at TV Fanatic.