Sometimes I'm surprised after a ​Gossip Girl rewatch that I find an episode so much better than I did the first time around.
Such is the case for Gossip Girl Season 2 Episode 7, known to the GG fans as "Chuck In Real Life." 
The initial thing I remember liking about this episode was the very Cruel Intentions aspect of the whole bet between Chuck and Blair. Admittedly that is one of my favorite movies and Chuck was always sort of a Sebastian Valmont 2.0.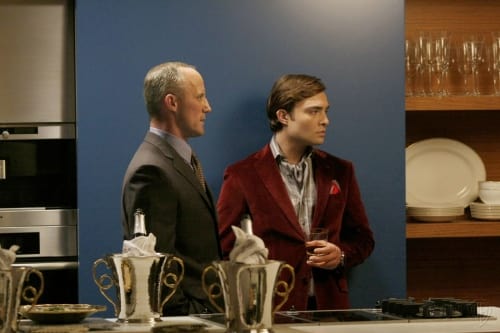 Blair's Agent Provocateur lingerie in the end scene deserves an honorable mention. As does the way Chuck turns the entire wager around on her:
Blair: What took you so long?
Chuck: If you thought that was long, you have no idea what you're in for.
While that quote was a bit of a double entendre (Chuck could be talking about his stamina in bed) what is really meant was that he was done chasing Blair. It was her turn to chase him. 
Remember when she wanted him to say those "three words, eight letters?" Well now he wants to hear it too.
I think what I realized in this episode is that Chuck actually had some quality in him (aside from entertaining us) and that Bart Bass really was such a psychotic a--hole. Chuck is so damaged because he's been rejected his whole life.
But alas from his damaged soul he does have a beating heart in there somewhere and better yet he has passions: one of them being investing in entertainment and nightlife, particularly ones with charm and history.
Vanessa's "save the landmark" project may have started as a bet, but Chuck wants to own, develop, and maintain real estate and he found that the bar was actually something that interested him. Too bad Blair and her pettiness were too concerned with burning Vanessa to realize Chuck actually cared.
It all makes sense now why Chuck flipped the switch and stopped letting himself feel consumed by Blair and started letting her feel consumed with needing him.
Onto the rest of the episode, Bart's attempt to act like a family unit was laughable. Aww Serena's little suit had its own seat on the plane! I mean Lily...who gives a sh*t.
Best was Serena's utter defiance of it all:
Oops! I forgot to put on underwear!

Serena
There's the rebel we all know and love!
Elsewhere Nate was loveable and lost as Dan figured out he was kind of living like a homeless person (in his Fifth avenue mansion). Poor Nate, I'll take you in!
So who had your favorite storyline this episode? If you need a refresher, don't forget you can watch Gossip Girl online at any time!