Summer has only just started, but things are quickly heating up on USA,
Our favorite federal agents have a new assignment on their hands and, if Graceland Season 2 Episode 1 is any indication, it looks like Mikey is going to be at the helm of the operation.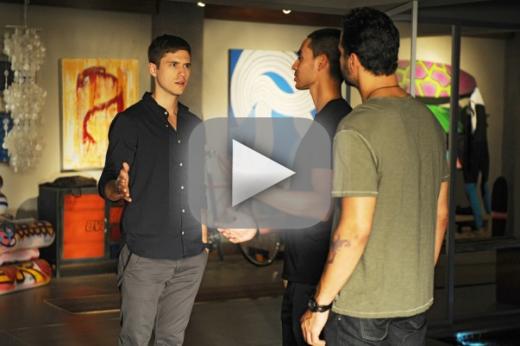 It seem like D.C. was treating Mike well. He was a rock star among his peers and even had a new girl, Jess, wooed by his this believed status.
This Jess character strikes me as trouble from jump. I feel like somewhere along the line she's going to hang Mike out to dry when he really needs her or the bureau's support.
But, alas, the undercover life has its grip on Mike, and he jumped at the chance - even if indirectly forced by his shutdown investigation - to get back to the Graceland crew.
I have to say, when Briggs got Mike on the phone, I wasn't sure he'd divulge the fact there was a hit out on him. The Briggs of Graceland Season 1 would have played an angle. But something about Briggs has really changed.
After all, he did mention he had bridges he had to rebuild, so perhaps this is his way of getting back in the bureau's good graces.
How quickly the tables have turned, though. Where Briggs seemed to be the vortex of power in last year, Mike is now top dog. I can't help but think his peers are going to have a hard time. At the very least it's going to be awkward.
Awkward definitely describes Mike's trip back to the house. D.C. sure did seem to give Mike a "better than thou" attitude at first, but perhaps it was because he was a little jealous at all he'd missed out on - and that they'd moved in a new roommate.
I'm really interested in getting to know the newest house member. It's certainly going to add a new element to the Graceland dynamic.
One can only wonder how the buses and the Caza cartel are going to get linked this summer, if they ever are at all. There's a lot of possibilities on the horizon.
Yet just as the dynamic among the housemates and Mike has changed, many of them between Jakes, Johnny, Briggs, Paige and Charlie are much the same. Charlie and Briggs are officially together, though I think we can all say there was a strong possibility that was going to happen anyway. T
he chore wheel is still intact - and that, my friends, is a sign of a still-functioning household.
I'm excited about what's to come. We have the direction, now all we'll need are the details.
Are you excited for the rest of Graceland Season 2?
C. Charles is a TV Fanatic Staff Writer. Follow her on Twitter.