The Maltese Falcon was killed for Brewster's millions by arsenic, sans the old lace.
Hold on. Arsenic? Where's the old lace? Who uses arsenic in this day in age?

Provenza
Yep, that's where Major Crimes Season 3 Episode 3 went - and it was a lot of fun.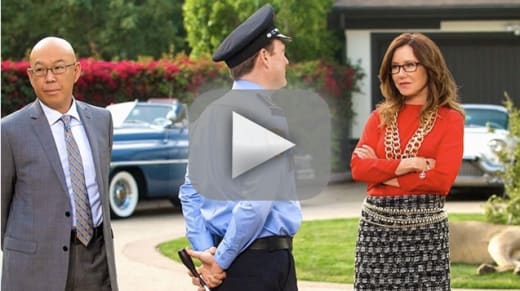 The writing for the installment was full of double entendre that worked very well. I loved how every time Baird (Dick Tracy to the squad) said Maltese, everyone cocked their heads waiting for the follow up -- Falcon.
The estate was decorated with stuffed animals and neon; classic, silly Major Crimes and how the detectives responded was in kind.
Honestly, there isn't a lot to talk about because it was enjoyable fluff with great wit. To think it all started because Provenza wanted to be a good officer of the law and help out wherever needed as a good influence for Rusty.
When Captain Baird gives an order, we follow it, even if we can't quite remember who he is.

Provenza
The multi-million dollar dog lover left her estate to many before she passed and included in the will was an endowment to the LAPD. That lead Chief Taylor to question his detectives at every turn as he tried to keep the funds from slipping through his fingers. 
When sizing up the family contesting the will, the team realized Dick Tracy may have been working for the family as a way to get Brewster's frozen head removed to break her trust and throw everything back into the open.
That didn't stop the gags from flying. 
Sharon: Marcella Brewster is legally dead and I have every right to examine her head.
Taylor: But Eternal Meadows says that now that Marcella has been thawed out she can never be frozen again.
Provenza: It's the same with chicken or fish.
Honestly, given the fact the character actor leading the charge to look for Falcon was a well known face, I knew immediately he would be the culprit. That's OK though because it gave Sharon a reason to act the role of an unknown niece named Meredith. It was a delightful scene that ultimately lead to his arrest.
No! Don't shoot. I'm rich!

Kliner
Dick Tracy wrote his 63 page statement and was thanked for his contribution to the LAPD for the second time. The first was when he impersonated an officer -- or three -- named Provenza, Flynn and Pope. Yes, he paid a visit to the precinct before in The Closer Season 5 Episode 6. We weren't reviewing the series then, but at that link you can find out how it all started when you watch The Closer online. Cool, right?
I thought it was great to have a throwback episode and one that was pure fun. It can't always be hardcore and these episodes are some of the most enjoyable. Don't forget, you can also watch Major Crimes online to catch up on all the latest. 
Should Sharon consider joining community theater?
Carissa Pavlica is the managing editor and a staff writer and critic for TV Fanatic. She's a member of the Critic's Choice Association, enjoys mentoring writers, cats, and passionately discussing the nuances of television and film. Follow her on Twitter and email her here at TV Fanatic.