Granted, Orange is the New Black Season 2 Episode 5 was the least compelling of the new season so far.
But that didn't mean it was lacking frightening new possibilities.
We got Gloria's back story and there was some business about a fight brewing between Vee and Red, yet I needed to consult a friend as a sounding board to figure this out. The good news? I am not a psychopath. If I were, it might have made more sense.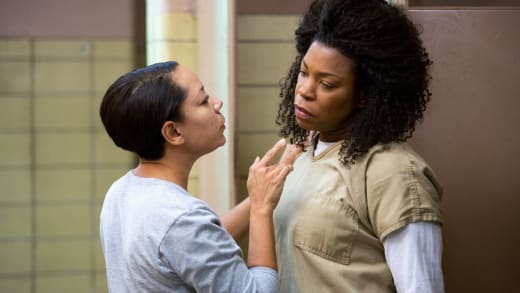 There is a constant race war in Litchfield. Everyone is segregated, but there is as much self-segregation as there is done by the prison officials.
When the Latina women's bathroom goes un-repaired for days (thanks for Figueroa and her need to be beside her senate-running husband rather than doing her job), an argument ensues. 
It makes sense. The Latinas are working the kitchen. The very least they can do is have a sanitary place to wash up. Alas, they don't. Through a series of machinations, Vee wound up making a compromise that allowed Gloria to get more workers for the kitchen. Vee's "girls" would work warehouse maintenance so she can get use out of them.
It was pretty apparent that Vee was a manipulator from her behavior with Taystee both growing up and when she disappeared when Taystee needed her most upon her release from prison. She also managed to use 20 year old cigarettes to get a cake, which was then used to make the girls like her.
But, I don't think they really do. Poussey wasn't on board when it came to selling her moonshine so I doubt she'd take to running anything else for Vee. Black Cindy feels comforted by Vee, so she's a wild card. My Suzanne is beholden to Vee, however, and now I'm worried about her. 
Red is angry because she wanted to use the greenhouse (in lieu of the kitchen, where she would prefer to be) to run her makeup and pantyhose into the joint. She knows that what Vee will be running will be a whole lot worse, because she has a history with her. There can only be one Number One in the joint, no matter their race.
Since Poussey was loving on Taystee and didn't sync with Vee, might Suzanne kill her? Vee is going to have to send a message to "her girls" to get them to follow her lead, right? Securing them a stanky bathroom and warehouse work isn't going to do it.
Meanwhile, Gloria just wants to run the kitchen. She was stunned to learn she really hadn't won her battle with Vee. It seems she's used to losing, as she's in prison for food stamp fraud. Of all things, right? Her husband or baby daddy or whoever he was was abusing her and she needed help to get away. 
Sadly, if she had just angered him enough to put on a self-locking door and tricked him into leaving his keys elsewhere, things would have taken care of themselves. My Netflix had no subtitles, so I was flying blind, but I'm pretty sure the dude died in a blaze of Glory -- God's glory -- when he locked himself in a room and knocked over Gloria's shrine for help from the Lord.
I'm getting a bad feeling about this Vee. Those fake tears and the hidden smile when Gloria thought she had won the battle were signs I've seen on someone before and guess where he ended up? Prison. She's in the right place, but she needs maximum security, not minimum with our girls.
Other bits n bobs:
Piper found out her grandmother is dying and tries to get furlough from Healy. He complies when he realizes how much his new friend, Caputo, really cares about the women in the prison.
It was really cool to see Caputo playing in a band. I've always liked the guy and listening to him talk about the women at Litch and his desires to do what's best for them felt right. He looked cute in his hat and street clothes, too.
Healy needed to get a friend to prove to his un-loving wife that he had one. They're both living very unhappily in their marriage.
Big Boo and Nicky were still on their quest to bang as many girls as they could, and supposedly Boo was winning. I'm sorry. Who would do Boo over Nicky?
Piper finally broke and called Larry. They agreed they miss each other. If she gets furloughed, we'll see how much.
This installment was just too devious to pack that OITNB punch I love, but I'm OK with that. I don't want to understand people like Vee. I need to be aware of them, sure, but thinking like her is never something I want to call one of my skills
Would you go to a bar to see Sideboob play?
Carissa Pavlica is the managing editor and a staff writer for TV Fanatic. Follow her on Twitter.