Goodbye Litchfield!
Alright, it isn't quite as dramatic for us as it sounds, but in Orange is the New Black Season 2 Episode 1 Piper thought her life was about to change again, and she had absolutely no information to support her theories either way.
This was the installment that ripped away the safety net around Piper that had formed in her unique new home at Litchfield. After literally beating Pennsatucky to hell and back in Orange is the New Black Season 1 Episode 13, Piper was thrown into SHU (solitary confinement for the uninformed).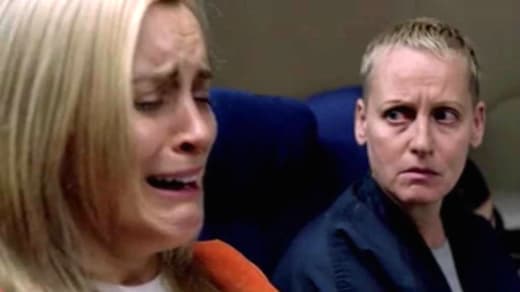 Her release was just as abrupt as being dumped in there and just as unceremonious. Suddenly Piper found herself being transported, first by bus and then by plane, to an unknown destination.
As a viewer, I realized nothing terrible had happened to Pennsatucky -- well, nothing out of the norm for a prison beating, anyway. If after four weeks Piper hadn't been charged with murder, (casting aside) Pennsatucky had to be alive. Tossing her ass in the SHU was a punishment for her bad behavior, not killing someone.
Does SHU do it's job? On some levels it sure seemed effective. Piper, who has a distaste for cooked egg yokes, took to decorating her cell with their remains, creating what she called "Thirsty Bird," a yellow warbler drinking out of a daffodil on the wall. She's just shy of crazy. 
In a blink if you miss it moment, just before Piper was cuffed and taken away the guard asked her if she had to pee. Given the reality of what was about to happen she should have paid more attention. Lack of information can hurt. It was over five hours later when Piper had a chance to use a toilet (sans door and in front of two male air marshals) that she got to relieve her bladder. 
Over and over she asked if they would be stopping, if they could stop, to pee. It was almost as agonizing to imagine as not knowing her circumstances. A fellow bus rider was shocked she didn't know to wear a homemade diaper. Perhaps if she knew there was a journey ahead, things would have been different.
But it worked. Of course. All of the isolation and ignorance of her situation was frightening to watch. When you go inside, you really have no recourse when you're treated however anyone wants to treat you until much, much later (if ever). You're not guaranteed the warm and cozy surroundings of Litchfield, especially if you crack and come to blows.
Piper was disoriented, lost and uninformed. Considering her one-two punch of SHU and being shuffled away from her Litchfield home, Piper will either tow the line or become more of a thug now that she knows the SHU. It seems doubtful a middle of the road reaction would come of her experiences.
After landing in Chicago and being booked into a new home, introducing an entirely new group of women we want to hate but would probably ultimately like if we had a chance to get to know them, Piper saw Alex in the yard. Using her wiles, she was soon talking to Alex, learning that Pennsatucky was fine and they were in Chicago to testify against Alex's boss.
Mixing in scenes from Piper's childhood, where she was a the classic good girl, afraid to jump out of the back of the bus as tradition demanded even when the bus driver slowed to nothing to allow them off safely was a way to show us just how far Piper had come. Learning that telling the truth sometimes came with painful ramifications was a lot of the lesson, but buying tickets from an older guy to see Dazed and Confused at the theater said it all.
Piper was dazed and confused already; and then Alex asked her to lie about what she knew of her boss. It's the only way Alex could protect Piper, she said. Going against everything she believed in and in hopes of protecting the woman for whom she still holds a torch, Piper lied.
Her reward was to be greeted afterward by Alex, in street clothes, on her way out. She must have struck a deal of which Piper was an unwitting pawn. 
I expect episode two takes us, and Piper, back to Litchfield. I wonder if Lolly will come with; Lori Petty is a great addition to the cast and for her to be fleeting would be a shame. Lying on the stand severed any ties Piper had to using Larry's father as an attorney, so maybe as atonement Alex will step in to help.
Our immersion in the life of Piper is supposed to come to an end during Orange is the New Black Season 2, and this is a good way to set her free. We've witnessed her as every prisoner now. She's not that special girl who did the wrong thing and suffered the consequences. She's just like everybody else behind bars.
I can't wait to see what happens next and to catch up with all of the other gals from Litch. My journey will be much slower than yours as I take time to write, but I'm hoping it goes a lot faster for me than it did last year. From the glorious theme song to the closing credits, every hour is worth watching with anticipation. It was written to gobble up. 
Must see moments:
Piper's new bunk mate thought she must be famous. "Are you Lindsay Lohan?"
The prisoners in Chicago spend their time using huge cockroaches to transport cigarettes. Really.
How about the prisoner wearing her homemade diaper peeing as she talked to Piper on the bus?
The women in the prison yard standing like penguins to keep warm.
The look of happiness on Piper's face as she sipped coffee from Dunkin' Donuts.
Did you see the warbler and the daffodil in Piper's egg art?
Carissa Pavlica is the managing editor and a staff writer and critic for TV Fanatic. She's a member of the Critic's Choice Association, enjoys mentoring writers, conversing with cats, and passionately discussing the nuances of television and film with anyone who will listen. Follow her on Twitter and email her here at TV Fanatic.