Suzanne "Crazy Eyes" Warren can't help but be adorable.
Sure, the character was supposed to scare the crap out of Piper when she first got to Litchfield, but her desire to be included is difficult to dodge, even if she's peeing in front of Piper's pod out of anger.
Digging into her back story in Orange is the New Black Season 2 Episode 3 was everything I hoped it would be - and I want more.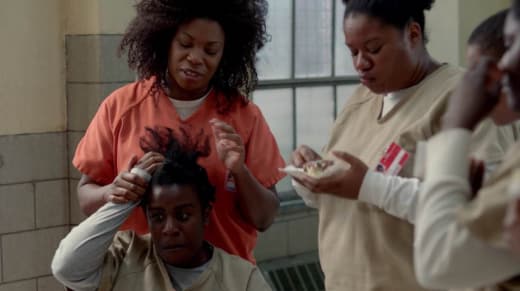 Watching Orange is the New Black can be daunting. We learn so much about people in such a short time because we have the ability to binge. I'm sure most of you are way ahead of me by now, but only three episodes in and it feels like forever already!
That Susanne was adopted into a white, upper middle class family didn't come as a surprise. We saw a hint of them in Orange is the New Black Season 1 Episode 9 and they seemed close. As it turns out, Suzanne's overprotection as a child and forced interaction when she wasn't ready for it left some scars behind. As it would.
I was close to tears more than once while watching. Who wouldn't be under these circumstances?
Suzanne: I dressed myself mama. She's so pretty!
Mama: Isn't she?
Suzanne: She looks like you and daddy.
Mama: Mommy and daddy made her honey. She's our miracle.
Suzanne; Can I hold the miracle?
Being raised by white parents with her white miracle sister could have been alright for Suzanne, but she seemed forced into activities that didn't suit her, so she's always looking to recreate the intimacy she might have missed out on if she had been allowed to follow her own path. How her obsession with Piper all wrapped up into the Christmas pageant and the beat down Piper gave to Pennsatucky was brilliant. 
Did we already learn why Suzanne is in Litchfield? I don't recall and after the violence against Piper for because of her mom, I'm wondering if that was the culprit. It can't be because she's a bit off and beats her own head. It happened during Orange is the New Black Season 1, my inability to call her Crazy Eyes with any feeling behind it. She's Suzanne.
Taystee was suffering some mommy issues as Vee came back to Litch. Apparently Vee was quite the thing once upon a time and has a history with Red. Although Red got herself together enough to meet her old friend or rival, it's difficult to say how they'll compliment each other going forward.
Vee took a liking to Suzanne who needs the love of a strong black woman. She's constantly pushed around and meant to feel less than and Vee saw to it she wouldn't allow that any longer. 
Suzanne. Listen to me, OK? In my day? The black women ran this place. And I say women because that's what we were. Not a bunch of little girls runnin' around here with bad attitudes. Now I see you. You understand? I see you. You're a smart, strong black woman. Everybody else around her underestimates you, but not me. You remember that the next time you run into dandelion or whatever the hell you want to call her. You hold your head up high, you hear me? Because at the end of the day, you are a garden rose and that bitch is a weed.

Vee
Turning down a platonic date with Piper was the start of Suzanne's reformation. 
The conversation between Piper and Nicky was a highlight. Since they have both had a taste of Alex, they have something in common. What seems heated at first ends with Piper telling Nicky she missed her. Hell, she missed everybody through her trips to SHU and Chicago. Hugs and kisses were floating all over Litch with her return.
It's wild to think that if you go through what Piper did you are basically starting from scratch again. She's back in orange and in need of a toothbrush and soap. All of her possessions must have been tossed. I don't know what else they would do with it.
Episode highlights:
New inmate Brook really thought she found a kindred spirit in Piper, but damn. All of her talk of meadows and babbling brooks versus shields and the garbage that came out of her mouth was annoying. Piper is a wolf now. No more messing around.
Morello finally discovered her Christopher was marrying another girl on her wedding date. She's bereft, but Nicky was there for her. "She's a slut." Nice.
Vee has the prison system down. She hid a pack of cigarettes back in the day and they were still there. She chatted up Gloria in the kitchen and traded her some decades old smokes to get a cake. You gotta admit Vee's got game.
Daya wants to be a better mother than hers. She wants her baby to have everything. Um.... dear, you're off to a really bad start.
Who gives a crap about Larry? It's time to cut the cord on his character. I'd rather catch up with anybody else on the outside other than him. Where's Piper's brother? Anybody but lame Larry.
I cannot wait to see Suzanne's new hair style. Please tell me it is different in episode 4!
Is it just me or does there seem to be a lot more sex sooner this season? Big Boo frightens me and that thing with Nicky and whoever? Whew.
Poor Pennsatucky. Everyone is just so over her that they didn't even notice her new teeth. It should do wonders for her work as a pro-life advocate.
Who are you rooting for in the Dandelion vs the Garden Rose?
Carissa Pavlica is the managing editor and a staff writer for TV Fanatic. She's a member of the Broadcast Television Journalists Association (BTJA), enjoys mentoring writers, wine, and passionately discussing the nuances of television. Follow her on Twitter and email her here at TV Fanatic.