Falling Skies Review: Metamorphosis

Carla Day at . Updated at .
The much-awaited reunion of the Mason family and the 2nd Mass finally happened on Falling Skies Season 4 Episode 6.
While I wish it would have happened earlier in the season, the situation in Chinatown reached a critical point which coincided well with the arrival of Tom, Hal, Matt and the rest of the 2nd Mass.
Lexi's involvement in her Overlord father's release and her subsequent evolution would have been handled entirely differently if Tom was not present.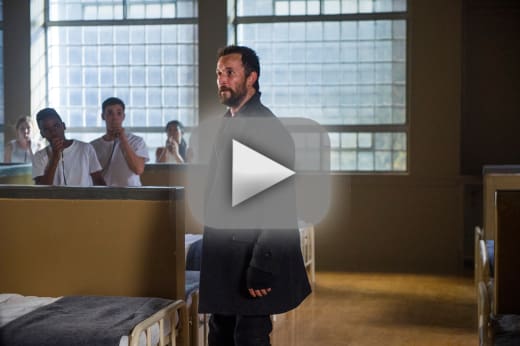 Falling Skies has always been about "family" and exploring various incarnations of that term. The Mason family has been the core biological family led by Tom, but it has been used to define a much larger group of people who follow Tom's lead, the 2nd Mass. 
With Lexi's loyalty to her family and to humans called into question, a divide formed within both the Mason family and the larger 2nd Mass family. It's an intriguing question, because all evidence points to Lexi being a major threat to humans and their continued survival.
Lexi's not entirely human, she's carried on a secret relationship with an Overlord, and she has powers which she's used to hurt people. The only positive in her favor is that she's created a safe haven from the Espheni. Given her relationship with the Overlord, her true intentions should be questioned.
The cocoon is just another element which makes Lexi different and appear to be a greater threat. The Volm fear her and the cocoon enough to leave Chinatown and warn the humans to leave as well.
While logically it makes sense to fear Lexi, the heart tells an entirely different story. Tom isn't ready to give up on the daughter without a fight and he's willing to risk his own life to give her the benefit of the doubt. He stood strong against his own blood and 2nd Mass in order to protect her.
In the end, he probably made the right decision. He sent the rest of the group off to safety and remained behind with Maggie, Weaver, and his kids. It was surprising to see Hal face off against his father and siding with Pope. It felt slightly out of character for him. I'd like to see him try to justify the decision now that he's stayed behind with his family.
The relationships between Hal, Ben and Maggie are beginning to get complicated. Now that Ben's having feelings for her and she sided with him over Hal, it will be interesting to see how they move forward. Even if she doesn't know how Ben feels, Hal saw it all go down. Though, that will likely take a back seat to dealing with Lexi.
With so much doubt in the air, it was Anne who provided hope in the end. She risked her own life to find out answers to help save Lexi and she succeeded. 
Whether Lexi will be on the side of her human family or the Espheni remains unclear. If Anne's vision can be trusted, Lexi does love her mother and saved her life over siding with Karen. 
The final moment was touching. When Anne touched the cocoon without suffering the burns that Weaver received, it provided a reason to hope for a peaceful resolution. Lexi could be the key to bringing the humans and the Espheni together and ending the conflict. 
Is Lexi a threat?
Carla Day is a staff writer for TV Fanatic. Follow her on Twitter and on Google+.