Gang Related Review: Crossing the Line

Carla Day at . Updated at .
What's right?
Is it acceptable to cross the line from right to wrong in the attempt to do good?
On Gang Related Season 1 Episode 8, the good and bad guys are making terrible decisions driven by the desire to protect one's family. The result is even more poor decision making and turmoil.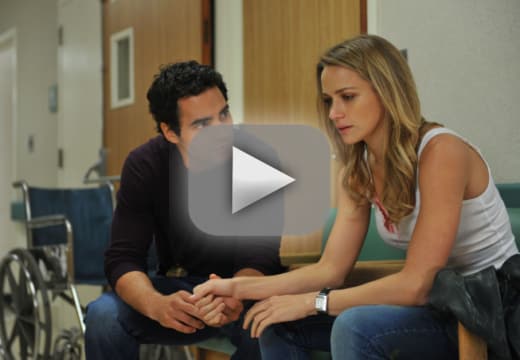 I'm done even attempting to justify Javier Acosta's choices. At this point, I'm not sure whether it's poor character development from the writers or that they intend for him to be so misguided. Either way, I don't care. He claims he wants to get out of illegal business and get clean, but his actions run counter to that goal.
He says he loves his sons and family, yet he asks them to do terrible things that threaten their lives. Daniel was nearly killed and is broken. Carlos survived, but is paralyzed. And, Ryan walks a thread that's getting thinner and thinner between helping Javier and being a police officer.
Is Jess the only honestly good person in the Gang Related world?
"El Zorro Y El Galinero" proved the criminals are bad, but so are the cops. Let's take a look at the task force:
Ryan Lopez has continually worked against the task force to help Javier.
Sam Chapel pushed a guy out the window to his death. He has also encouraged illegal methods to frame people he views as dangerous to society. 
Tae Kim has a criminal past. He's being blackmailed into helping Silvia to protect his past and his sister. Where is he getting $5,000 and now $10,000 to care for his sister?
Vee killed Sonny Watts to protect Chapel, who has promised to help get her brother free.
Then, there's Cassius. Maybe he's the only one that's clean, unless I'm forgetting something he did. It's intriguing to look at the list and see that he's the only one who has had his actions officially questioned and he's actually clean. He did kill someone, but he did what needed to be done.
Ryan's gotten away with working undercover for years, but that's all beginning to fall apart with several small mistakes adding up. Ryan may have kept the Acostas out of his childhood photo album, but once Jessica runs Silvia's license plate, he's going to have questions to answer.
It's entirely possible that Ryan will talk his way out of it, but it will just be another nail added to all the others which will bring him down. Though ... Ryan did keep the video of Chapel pushing the guy out the window. He would blackmail his boss in a second, if it would protect him from being exposed. Mutual destruction.
On the Acosta side, I feel for Daniel. He's tried to distance himself from the family business and been highly unsuccessful in that plan. He's suffering from the trauma of his near-death experience and torture all alone. He won't confide in Silvia or show "weakness" to anyone else. He's self-destructing now by acting out.
In an odd roundabout way, when he punched the guy at the restaurant, he set into motion a series of actions which could bring down his entire family. Salazar didn't kill Daniel, but he and his family may have been better off in the long run if he did. It's going to be a crazy ride to the season finale.
In the end, who will still be standing? It probably shouldn't be any of them.
Which Task Force Member has crossed the line the most?
Carla Day is a staff writer for TV Fanatic. Follow her on Twitter and on Google+.