Gang Related Review: Enemies

Carla Day at . Updated at .
Is the enemy of my enemy my friend?
That may be the case sometimes, but Javier Acosta wasn't having any part of that philosophy on Gang Related Season 1 Episode 9. Instead, Acosta thought he could handle the situation with the Metas on his own, even after the cartel blow up a food truck during a Los Angelicos festival.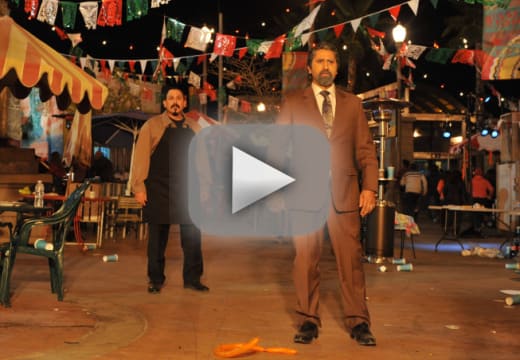 Through the first 9 episodes of Gang Related Season 1, I still am not sure how Javier became such a powerful leader unless he won people over with his charisma. His decision making since the series began has been less than stellar and naive. His desire for the future blinded him to the reality in which he lives.
Javier was given the opportunity to work with Chapel and the task force to take down the Metas, but he refused. He did help Ryan by turning over the Meta location and that helped at least a bit. It's clearly complicated and Javier felt it was better to face the fight alone. Instead of helping the situation, Javier ended up fighting a two-front battle.
The Metas on one side and Chapel with the task force on the other. Both were harmful to his extended family in different ways and the resulting actions would forever alter his future in an unpleasant and upsetting way.
Tio Gordo killed Hidelgo, a Meta, to protect Carlos Acosta. In response, Miguel wanted Gordo dead to even things out. Javier chose to defy the Meta and put even more pressure on himself and his family. It was a noble position to take and one out of love for his family and Gordo, but devastating at the same time.
On the other side, Chapel used Jason to entrap Daniel. Since the cop wasn't allowed to approach or go after Javier, he went after his son instead. Ryan couldn't do anything to stop it, since he was kept in the dark about the plan and arrest. Poor Daniel. He was tortured, arrested, and believed Ryan's going after his fiance.
It's a mess. And, it only got worse.
Javier tried to makes things right with Miguel, but the Meta held firm with the required payment of Gordo's death. Javier couldn't give up his friend and instead took matters into his own hands ... literally. As soon as Javier sat down at the table, I knew he was going to retaliate, but I audibly gasped when he stuck the blade into Miguel's head and then held my breath as he went on a rampage.
What would you do to protect your family? Javier proved just how far he was willing to go. He wouldn't work with Chapel, but he'd get his hands bloody if necessary.
Going into the last batch of episodes, there's turmoil all around. Ryan's secret is at risk with Jess investigating him. And, Javier's troubles will continue now that Daniel's in prison and with the Meta killings.
Is a happy ending possible? Highly doubtful!
Who's the biggest threat to the Acostas?
Carla Day is a staff writer for TV Fanatic. Follow her on Twitter and on Google+.