After an episode that focused mainly on various other crises and plot points, Masters of Sex Season 2 Episode 3 pulled us back to the main duo: Virginia and Bill.
Or rather, Virginia and Bill's alter-egos "The Holdens."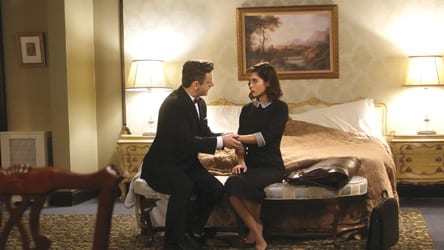 Since Masters of Sex Season 2 Episode 1, Bill and Virginia have been having an affair masked as continued research. They meet at a hotel under the guise that they are Dr. and Mrs. Holden. This week they took their roles one step further.
What would life really be like if they were The Holdens? What's their backstory? What's their relationship like?
It's always interesting to see these two have raw moments when Bill isn't quite so guarded and clipped the way he is around Libby. Not that I condone adultery, but we all know the chemistry is there. You can see it and feel it in their interactions.
At the end when Virginia is talking to the bellhop about relationships and he makes a comment about men needing to give women jewelry, she notes that Bill gives her something better. He takes her seriously. And it's true, especially considering how arrogant and stubborn Bill can be.
They have a unique relationship and I enjoyed watching an episode where they opened up to each other in new ways, not just sexually. Although there is that aspect too of course.
We might look like the white picket fence types but we're not. There's nothing ho hum about us.

Virginia
Bill talking about his childhood was a huge deal. Libby barely even knows about it. I had to wonder if that was part of the reason he was so vehement about stopping that patient about the gender surgery. 
Sure he was urging him as a doctor and Bill is nothing if not a fantastic and thorough doctor. But it also felt like in a way he was urging him to just accept his kid as is and not be a bully about it. He did refer to the man as a bully in conversation with Virginia.
I can't help but wonder if seeing fathers like that brings up his own painful memories.
Something to note was the introduction of Barry Watson at the end of the episode. Last seen on Hart of Dixie might he be introduced as a potential love interest for Virginia? After all, she may have fun playing the Holdens, but it's moments like when she's holding Bill's wedding ring that she remembers they aren't truly together.
I found it very interesting that Bill told her at the end "if we were married, now we would kiss" and Virginia brushed it off. Is Virginia getting more attached to Bill than she lets on? And is Bill just fooling himself?
Did you like the Bill/Virginia focused episode?