Meghan Markle Teases Future of Rachel/Mike on Suits: "It's Not Going To Be Easy..."
Jim Halterman at .
Are Rachel and Mike headed for a major bump in their relationship?
It could end up that way since Rachel's ex, Logan, made it clear via an attempt at a kiss in Suits Season 4 Episode 4 that he still has feelings for her.
And while Rachel didn't let anything happen, she also didn't really look like she was totally against the idea.
So... where does that leave her future with Mike as we move into Suits Season 4 Episode 5? And what about the marriage proposal that's previewed for this week's episode?
Meghan Markle jumped on the phone with me over the weekend to talk about all these topics and also to also weigh in on whether Rachel aspires to be like Harvey. (And, in case you missed it, don't forget to check out our Exclusive Clip from this week's episode either)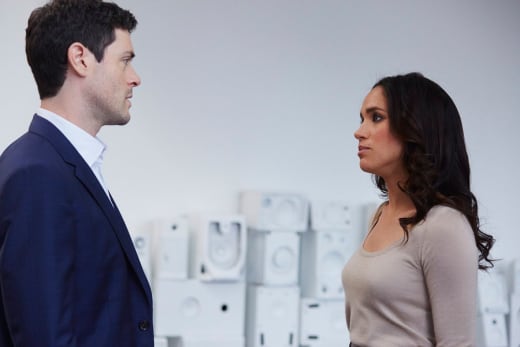 TV Fanatic:  Where do we find Rachel at the beginning of this week's episode?
Meghan Markle: I'm thinking it's been established when Rachel says to Mike in the file room like 'I'm not the goody-goody that you think I am' and, for me, this season's so interesting because this coming episode and especially the next few after that, we really get to see a more humanized side of Rachel.
I think especially in this week's [episode] what we're going to find is obviously she's trying to juggle law school and working at the firm and now the emotional drama that comes from someone from the past coming in and trying to shake things up. So it really does take a toll on her and I think it tests her. Not her character but it tests how she's able to balance it all.
TVF: One thing I'd like and this is probably a testament to Aaron and the writers is that with Mike and Rachel, I wouldn't say they're in a bad place but they're definitely not on the same page. Do you kind of see it that way?
MM: Completely. I love what our writers are able to craft in a way that makes it relatable. Definitely at the top of the season it seemed like they were playing house and everything is just so lovely but then reality sets in like they're both in different environments. Their relationship was very different when they were both at the firm together so now by virtue of the fact that their lives are pulling them in separate places, you get to see whatever they have can continue to maintain that bond between the two of them and it's not going to be easy.
TVF: I have to say, watching this week's episode, I was thinking that Harvey is kind of a d**k but I will ask you this - do you think Rachel wants to be the kind of lawyer that Harvey is? Is that her aspiration?
MM: I think Rachel wants to be Jessica because at the same time, Jessica is able to seemingly manage it all [and] look fantastic. As you say, Harvey can get a little mean and Jessica in the same regard can handle her business in a way where it doesn't feel quite as combative.
What I will say in these scenes with Rachel or Harvey is it's given me a chance to work with Gabriel extensively this season and it is so much fun. Oh my God! I literally have the best time working with him because we just laugh and it's so playful and then you go into these scenes and you just watch the shift happen. So for me like I guess because I enjoy working with him so much, I'm just like 'Oh my God, you must be such a good actor because you come across so mean to Rachel but you're the biggest sweetheart.'
TVF:  In the preview for this coming episode, we see Logan proposing to Rachel so is it safe to say we will see Rachael challenged in terms of her ex this week?
MM: I think that you know Brendan [Hines] has been such an incredible addition to the cast and he is around for a bit this season really shaking things up. So whatever ends up happening with that I truly don't know but I do know that he, as you can see and he plays it so well, plays someone who comes in with a lot of pompous and a lot of bravado and he's a man that is not used to hearing no. So his persistence is very present in the next few episodes.
TVF:  And they haven't made Logan out to be a complete villain, which I love.
MM: He and Rachel, it wasn't just some fling that they had. They really had some chemistry and a connection. As Rachel said in that scene with Mike - I think that was not this past episode but the week before – where she's explaining how she helped [Logan] in the deposition to get back together with his wife. That's something you do when you really love someone.
TVF:  We've seen Mike really help Rachel in her career over the seasons. Is she going to be that for him at all because he's in unchartered territory right now? Does that come up?
MM: I think Rachel, just by virtue of how the character's created, will always be worried about and wanting to help Mike. She can't help but do that and while at the moment, she's really preoccupied trying to balance all these things we've talked about. She's trying to build a future with him, so she's going to help him in whatever regard that she can because she wants their life to be the best possible it can be.
TVF:  So for the fans of Rachel and Mike, would you say they should be concerned about these next couple of episodes?
MM: I think they should be concerned about what happens to Rachel and Mike in the entire series. I think it's a slow burn. If you watch four or five seasons of the show, that's four or five years of someone's life and if you're really watching what happens in that huge span of time, it's never going to be just smooth sailing for that long a period.
So I think what I would say if I was just a fan of the show and not on the show, I'd champion Mike and Rachel. I would love to see them together at the end, perhaps opening their own little family law firm in Brooklyn. But at the same time I think people have to be understanding with the fact that ­­­­it's not going to just be rainbows and sunshine all the time. Fans and viewers can be concerned or worried or they can also just say 'you know what? Things might happen and champion them to get through it together.'
TVF:  Love conquers all, right?
MM: Love conquers all, Jim.
TVF: So tell me how has it been going with TheTig.com? It's been up and running about two months now, right?
MM: It's a little over two months and I'm actually working on some stories for it right now. It's been such a whirlwind and people are so incredibly supportive and what I'm enjoying is I get to share the things that I'm passionate about, specifically food and travel stuff but also friends who are high profile influencers chime in like Serena Williams is a friend of mine. She's going do a thing because I know she's going to kick ass at the US Open and make a comeback. Then people in the fashion world. Right now we're in the July issue of Elle Magazine 'The Best Of The Web' and I've been doing so much other press for it. So it's just so awesome, Jim. I'm thrilled and you know I do all the writing on site. It really does feel like my baby.
Suits airs Wednesdays at 9pm on USA. For more on TheTig.com, visit the website. 
Jim Halterman is the West Coast Editor of TV Fanatic and the owner of JimHalterman.com. Follow him on Twitter.