Donna and Louis double-teamed on the theater stage, while Mike and Harvey gained some important perspective on Suits Season 4 Episode 5.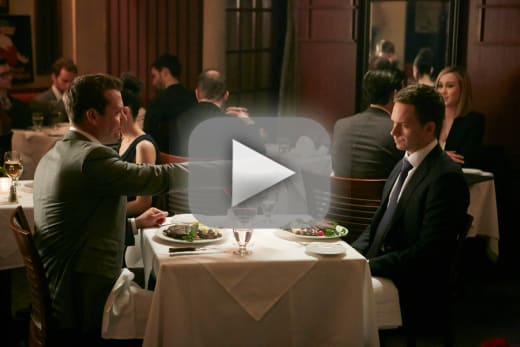 The war between Harvey and Mike continued to be waged over Gillis Industries, this time in the form of stocks that were about to be made available for sale.
Mike thought he could play mind games, and Harvey and Jessica thought they could skirt the law to get the sale to go they way they wanted, each waging potentially irreversible moves in the balance.
Mike would seal the deal in his use of Forstman's money, while Pearson Specter was poised to actively skirt the law by making the questionable sale in hopes of turning those shares over to Logan Sanders.
Trouble is, Cahill was on to Harvey's plan and his dinner with Mike made it look like they were colluding in some way, allowing an opportunity for the SEC to close in.
In between Harvey and Mike, Rachel was really struggling.
From the installment's outset, it was clear she was going down a bad path. She's caught between Harvey and Mike and their opposing professional agendas, while also dealing with her increasingly strained relationship with Mike and Logan Sanders' pursuit.
What wasn't readily apparent, however, was the way her story would lead to some perspective changes on at least two of the men in her life; in fact, you could even say her taking ill precipitated a temporary cease fire between the two warring powers.
Again, this cease fire was short-lived, as Cahill crashed the reconciliatory party. But the following meeting between Harvey and Mike included some apologies on both sides, which makes it seem like there is something in the future that may cause them to need to seek each other out again.
It's clear Mike is out on his own now that he's outside the firm, causing him to easily distrust any possible outreach from Harvey. But now that he's seemingly implicated in this whole SEC business, it might cause him to be lumped back in and in the cross-hairs all the same.
However, just as this heaviness of hospitalization and reconciliation was taking place, Donna and Louis were getting their moments to shine. I think the inclusion of Donna's return to the stage and Louis overcoming his stage fright, if only for one night only, was absolutely brilliant for the truths it brought out about both characters.
It goes to demonstrate how close these two are and I always wish for moments where their relationship is on display. Tonight my wish came true!
The only thing that made it better was Harvey picking Donna up for closing night and making a commitment to come and see her. This is where I think what happened with Rachel made an impact on him. Harvey doesn't typically go out of his way like that, and it totally warmed my heart!
So, Suitors, are we close to an overall cease fire between Harvey and Mike?
C. Charles is a TV Fanatic Staff Writer. Follow her on Twitter.