Jeff and Jessica attempted to take on the SEC, while Mike strained more relationships on Suits this week.
If you ask me, Pearson Specter (and all the people who make it tick) are on the verge of an epic breakdown; not of their firm, but of themselves. The culprit? Their emotions.
And that's why Suits Season 4 Episode 4 could be a real turning point.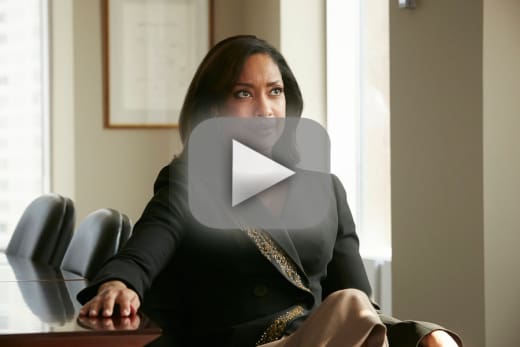 We knew Mike was leveraged to the eyeballs with his job on the line. But in his scramble to keep himself from sinking, he only brought everyone he knew down with him... even Donna, who took no time in calling him out in the episode's opening minutes.
If only that had been enough to set Mike straight. He proceeded to snap at Rachel, alienate Louis in the worst way possible, screw his boss out of the reward Mike used his account to gain and practically spit in Harvey's face by going to his enemy to turn his trash into gold.
Harvey wasn't batting at 100% either. He went off pretty bad on Louis when he failed to take the TRO out of play. But let's be honest: Mike really hit Louis where it hurts. And, not unlike Mike, Harvey let his emotions get the best of him, yet he directed his true anger with Mike at Louis.
And poor Louis, a sensitive soul easily manipulated by his emotions, got paid not once, but twice, for them:
Once when Mike's photo-shop job caused him to believe his beloved Sheila was on her way to the alter with another man.
And again when his eagerness to get Mike back caused him to push Mike towards the solution he needed.
Louis, not unlike the past, was unable to catch a break. That scene between him and Harvey over the matter was absolutely heartbreaking.
Someone else I thought was about to get his heart broken was Mike when it appeared Rachel might kiss Logan. Though given his poor actions this episode, I might have - out of my own spiteful heart - wanted her to follow through to give Mike something a reality check.
Of course, Rachel didn't do it, but she sure looked guilty. And one wonders if she isn't struggling with some residual feelings towards Logan.
Jeff and Jessica almost didn't make it out alive when it was discovered that Jeff was withholding information from Jessica about his status at the SEC. To be honest, that would have been the straw that broke the camel's back had they not figured out how to prevent the onslaught of subpoenas almost issued to their clients.
Luckily they were, and it seems theirs was the only relationship to avoid ruin this time around. And, that, my friends, was the real surprise.
But after all is said and done, do you think Mike made the right decision, or did he make a deal with the devil?
C. Charles is a TV Fanatic Staff Writer. Follow her on Twitter.