The Blacklist Season 2: John Eisendrath on Villains, The Mystery of Keane's Father & More
Jim Halterman at .
How do you follow up a kick-ass first season?
In the case of NBC's The Blacklist - which was a hit out of the gate last fall for NBC and even earned an early renewal shortly after premiering - you dive head first into the second season.
That said, there are plusses and minuses to having a successful freshman run of and executive producer John Eisendrath talked to TV Fanatic about the challenges in the writers' room at the Television Critics Association Summer Press Tour earlier this week.
Eisendrath also discussed killing off regular characters, the mystery about Lizzie's father, Red's past and, of course, those delicious villains that have become a staple for the show...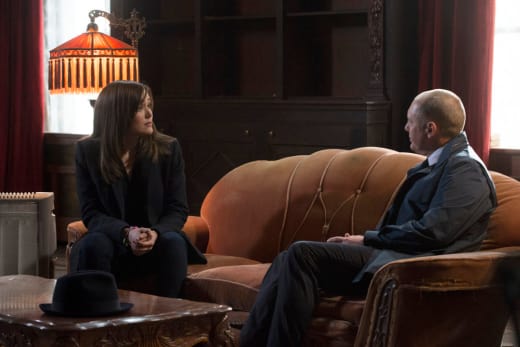 TV Fanatic: Going into season two, of course there are a lot of expectations, a lot of pressure. How do you tune that out and just dive in?
John Eisendrath: I think you do end up tuning everything out. I rarely get out. I never get out. We're in the office and it feels like the world outside our office might as well be in a different universe. We don't really pay attention to it. We just try and tell the stories that we think are right for the show.
The first year, if you're lucky, the pilot is a roadmap that is worth following and you do have a certain sort of initial momentum. And everything is a first and your characters are learning these life-altering things about them that they can never learn again.
And so, the second year is much more difficult in that regard. But you do get the opportunity to write characters that you are more familiar with and the audience is, too, so there's a certain shorthand that's super fun. We've only written the first episode and it's like getting back just like an old friend so that is incredibly fun.
TVF: Lizzie is single now. Is there going to be time to explore that? Personal stories for her?
JE: I think we will. It's always a trick to have personal stories that are unrelated to anything in the plot stories and that's why last year the Tom thing was so organic and worked so well. And I think we have a couple of examples early on. One story line in particular for her personal life that is wrapped around the sort of larger plot stories that we're telling. That, I think, will allow for her to really explore like 'okay, what is my emotional space? Where am I going to go? How hurt am I? How much am I holding onto the past?'
I think part of our challenge with her in the beginning is when does she begin to look forward? And I think that's part of the fun of the first half of the season - try and do stories that earn the moment where she's ready to do that.
TVF: When you're killing off a character, as you did with Meera, is that because that character, not actress, is not working, or is it to kind of remind us that people are expendable?
JE: In our case, it's not because Parminder or the character was not working. I don't think that would be fair to say because we all enjoyed her and her character. I think that it really was that you want there to be consequences when you're telling the stories that are as intense as the stories that we chose to tell.
And it feels like a cheat if we're going to tell as we did in the last episode that the big bad of the season has chosen to take out, go after members of the task force as a way of going after Reddington and, oh, they all manage to survive. It felt a little thin so that was really more the reason.
TVF: You talked about the father's story with Lizzy and Red. What are the stories that we get with Red? He's so mysterious but the bits about his life in season 1 were really satisfying.
JE: I do think that while some of the deeper truths will have to wait because, again, if we're lucky enough to be on the air for a few years you have to be patient. I do think this year we will explore questions about what happened to his family, which I think we were successful at teeing up last year with moments of real loss, when he blew up the house that he had lived in and said he raised his family in. So I think that's a natural next step to sort of exploring not only who he was but really who he is and how he became who he is.
TVF:  Spader reminded us frequently that Red is a bad guy. Is that the same in Season 2?
JE: He is a bad guy. Tony Soprano was a bad guy, it doesn't mean they're not capable of humanity. [Spader would] be the first to say Red has a very clear set of rules and a morality that sets him apart from your average thug, which is totally true. So, yes, he's a bad guy but I do believe that ultimately this is a redemption story for him and if in the end of the series he could get Liz to love him, that would be amazing.
TVF:  Amir Arison is going to be full time in season two. Is he still going to be playing the same role? Or will we see that all expand? It was fun to see him get pulled into the mission work a bit last season.
JE: Well, with Red's team whether it's Mr. Kaplan or we have the Black Cowboy and we have other people in his world. They are super specific. They only do one thing. We have this guy Brimley who tortures people. And Mr. Kaplan is the cleaner.
On the task force side of it, often it's easier, you just blend. We want to try and be as specific. So I think it's fun to see Aram go out like we did but you have to be very judicious and not just be like 'they're all doing everything.'
TVF:  You had such great guest stars in season one. Anybody we know is coming in for season two?
JE: Well, I'll be honest with you. We only just started to try and cast some of the new parts. So if someone had been cast, I would tell you. No one has been cast yet…that's why we have a rule that every episode, no matter how serialized…we want the show to be episodic with some serialization. So there has to be a blacklist of every episode who stands on his/her own. And I think that's part of the fun that actors have in coming to do the show. Because it's a great list of villains.
TVF:  In terms of the villains, what's the number one rule for a villain when you guys create one?
JE: I would say that a lot of our most successful episodes live in a creepy, weird space. The Stewmaker sort of set the [bar]. Jon [Bokenkamp, creator] and I were like 'oh, yes. I see that'. And so when we have this guy Milton Bobbit, he took his nose off, he was this weird, creepy guy. That's not a plot thing that The Blacklist has to have but it is, for lack of a better word, a vibe that the show has and I think is most successful in that universe.
TVF:  It's really become your staple in a way because we know it's not just going to be some guy who wants vengeance because his wife died. We know it's going to be something really dark and creepy on top of all that.
JE: We veer from it sometimes but we almost always are drawn back and I think we've got four, five or six ideas for the blacklist so far this year, all of whom I really believe fit that sort of theme. And I think that the rule that we set up in the beginning of the series is they have to be criminals that we can really legitimately say the FBI wouldn't or shouldn't know about. And that is hard.
The Blacklist Season 2 premiere on September 22.
Jim Halterman is the West Coast Editor of TV Fanatic and the owner of JimHalterman.com. Follow him on Twitter.