Should Barry stay or should he go? That is the fundamental question explored in Tyrant Season 1 Episode 2,
Whether he's Barry in Pasadena or Bassan in Abuddin, he's still an Al-Fayeed and has the weight of the family on his back. Whichever decision he makes there will be a cost for him, both of his families and the country of Abuddin.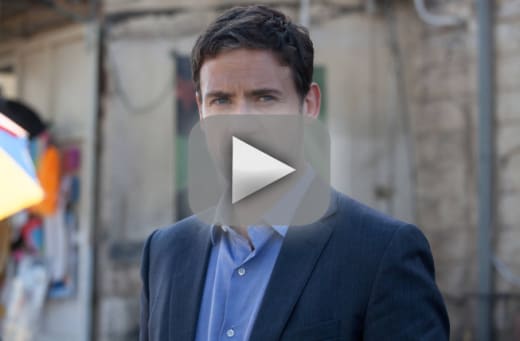 Khaled Al-Fayeed's death freed his sons and opened up possibilities for Abuddin, but it also proved to be an opportunity for dissenters to take action against the Al-Fayeed family. One aspect that I wasn't particularly clear on was whether the attempt on Jamal's life was really at the direction of the terrorist group or not. In the premiere, I thought it was the act of a woman who was tired of being abused by Jamal.
I'm sure we'll get more insight into why she did it and if it was a part of a larger terrorist plot against the regime. We saw that there is a group collecting weapons and plotting an attack of some sort. With Fauzi's daughter involved, that should draw him more into the story than he has been so far and put Barry in an awkward position with his journalist friend.
Nasrat's abduction also didn't appear to be directly related to any larger organization or plot against the family. It was led by a boy, who wasn't that much different than Barry and Jamal, in that he wanted to save his brother. Barry has shown twice now that he's a level-headed man and leader much different than either his father or brother. He could be a voice a reason that can prevent an outbreak of violence.
Up until now, it's General Tariq Al-Fayeed who has shown ruthlessness and used violence. Despite Barry's plea for mercy, he wasn't able to save the boys. He may have power in the country as an Al-Fayeed, but his word is not law. His influence and ability to give orders will likely increase with his decision to stay.
I was intrigued by Barry's comments to Molly about his choices as a teenager. He said he could either live in the palace with his family in opulence or go into the streets to protest.  The idea that he, an Al-Fayeed, even considered joining the protestors is telling about his character.
Instead of making a decision regarding his status within the country, Barry left his homeland behind to go to America, became a pediatrician and pretended his royal family and connection didn't exist. Once he returned to Abbudin and realized the power of his name, he took on a responsibility he had blocked out for years. 
He didn't believe in what his family was doing, yet at the same time he supported Jamal's comments about how their father was able to use his power to bring peace to the country. It's a weird double-edged sword. As an adult without the mental strain of dealing with the pressure from his father, Barry realized that even if he went back to Pasadena, the blood spilled in Abbudin would be on his hands.
The flashback to Barry killing the man on the street for Jamal informed on his decision. Jamal was not ready to take on the role of President without his brother by his side. If Barry didn't stay, then it would be Tariq who would have Jamal's ear and that would be detrimental to all the residents of Abuddin.
The Al-Fayeed family is full of individuals with differing motivations, relationships and beliefs that are just beginning to be revealed. Leila's relationship with both Jamal and Barry is of specific interest. There is much more going on there than has been let on so far. With Barry and his family staying, I'm looking forward to having her story uncovered.
Did Barry make the right decision to stay and help his brother? For him personally, it was the only choice he had after he saw the power he had which could be used for good. His uncle's disregard for the young boys' lives ultimately put blood on his hands and all the blood spilled from that moment on would be on him whether he stayed or not.
At least in Abuddin, Barry can influence the country's path forward. It will be a journey to see whether staying in Abuddin destroys him and his family or not. Or if he's able to protect them, while saving his homeland.
Did Barry make the right decision by staying?
Carla Day is a staff writer for TV Fanatic. Follow her on Twitter and on Google+.