Stepping back from the FBI story was the best thing for Ray Donovan Season 2.
The last two hours have been incredibly powerful character studies that have driven the stakes to almost unbearable levels. The closing scene of Ray Donovan Season 2 Episode 8, followed by the credits with the chilling song sung by Marvin Gaye left me with a giant lump in my throat. 
It's even possible now to feel something other than contempt for Abby. I almost want to apologize for what I said about her character in my 13 Awesome Abbys post. She deserves better than what Ray has given her over the years.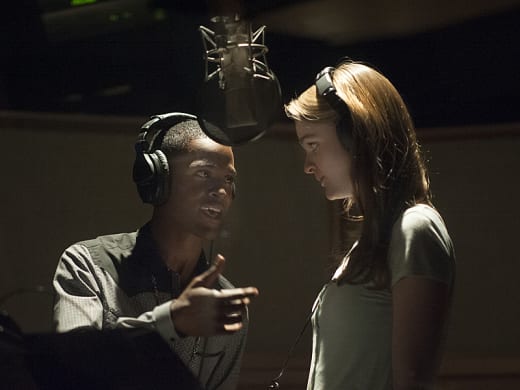 Let's get Mickey out of the way first. He had a great deal that would have thrust him into the spotlight. Three movies was what Hollywood producer Jerry (wonderful cameo by Richard Benjamin) wanted to give him. But first Mickey spotted Linda in a photo in Jerry's living room and then he was greeted by Claudette's husband, Alan, hanging onto a hot young thing.
All of that set Mickey off and he wound up strangling Alan. Granted, Alan deserved it. He's no better than Mickey, just better paid and with more social awareness. That effed up his deal, however. Will word of his transgression get around, putting him into further trouble with the law and the FBI?
This happening at the same time Kate got confirmation that Sully's girlfriend wasn't in witness protection, and her realization that Ray lied to her, can't be coincidental. It's all going to come crashing down, and the other events of the hour will likely become a part of that tidal wave.
We haven't been around for all of the Donovans' married life, so we can only really judge based on what we've seen in almost two seasons. Abby is annoying and made some pretty bad decisions, especially regarding Mickey, but she also stood by and allowed her husband to do as he pleased, as long as he took care of the family.
It wasn't until Abby was in bed with Jim, talking about the way they have sex, that I realized just how bad it was for Abby being married to Ray. Abby's potty mouth and trashy accent are indications of who she was when she fell in love with Ray. It's probably a safe bet that she hasn't grown much since then.
From what I can tell, Ray's view on sex is to feel powerful and climax. That can be a lot of fun when you're having an affair, but not so much when you're in a committed, loving relationship. Abby's comments about Jim not only caring about himself while screwing her proved how little sexual experience she has. She never uses the term "making love" but rather drops an F-bomb because what she and Ray did wasn't about love. That's incredibly sad.
Ray's response to finally getting a dose of his own medicine was to secure the Truesdale house. But he's too late. Abby had a taste of something sweeter and she wants it. While the machinations of her husband may have been alright before, they're not now. Kicking Ray out shows the first bit of growth we've seen in Abby. She finally realized she deserves better.
Then the Marvin Gaye Washington situation took a terrible turn.
Ray looks uglier and uglier the more he sets into motion. Marvin Gaye might not be the best boy for Bridget, but he treated Bridget better than Ray treats Abby. Considering girls usually go after boys like their dad, that says a lot about Bridget. But under no circumstances was it OK for Ray to make a deal trading Marvin's life away.
Cookie Brown helped create Re-Kon and the two both wanted stakes in the talented young Marvin. Since Re-Kon went back on his verbal agreement with Cookie (or Lee did, it's hard to tell exactly who made the decision), Cookie decided he'd just take the up-and-comer to make things even.
Cookie provided some incredibly funny moments to a stark hour. Spotting Lee's facelift scar and wanting to get a better look made me laugh out loud, followed by Cookie's remark about Ray's staff being awfully emotional. His easy going demeanor made it easy to overlook the fact he's a thug.
Marvin and Bridget made a pretty song together, they were very sweet while singing and it turned out quite lovely. Ray would have been angry, of course, but the song was completed.
Cookie sent Ray a message when he killed Re-Kon and Marvin Gaye, leaving Bridget as a witness in the back seat. Sort of killing everyone, it's difficult to imagine how Ray can fix this particular situation. Will his contact with the FBI come into play?
Not to mention Abby is in love with an honored homicide detective (whom I do not think was in the game to get to Ray, much as it might have seemed) and her daughter is now the key witness in a double homicide. Abby kicked Ray out, but she won't want to keep Ray from Bridget during a time like this. Family needs to stick together (although I disagree).
The musical choices of "Walk This Way" and "Sunny" were perfect accompaniments to the drama. With four episodes left until the end of the season it seems we're in for some fairly emotional stuff to come. If the last four hours are as great as the previous two, then it's easy to see exactly why Ray Donovan was renewed for a third season.
Hit the comments with your reaction to the hour. Surely we can strike up a decent conversation over this one!
Carissa Pavlica is the managing editor and a staff writer and critic for TV Fanatic. She's a member of the Critic's Choice Association, enjoys mentoring writers, cats, and passionately discussing the nuances of television and film. Follow her on Twitter and email her here at TV Fanatic.