We all wear masks.
Wearing them both physically and figuratively is the theme of Satisfaction Season 1 Episode 3 and the depth to which the series goes to examine a long-term relationships and the facade people take up while together is truly satisfying.
If you're still with me, you didn't run off at the idea of a man remaining in his marriage and actively engaging in infidelity after learning his wife was with a gigolo.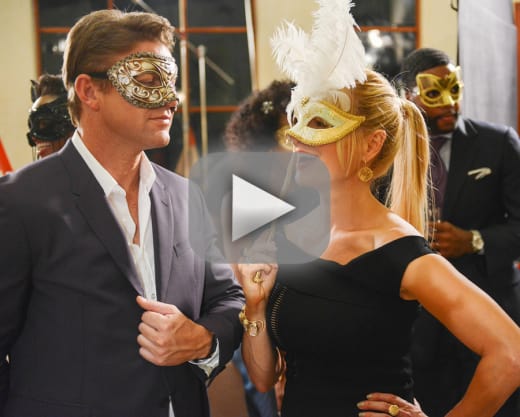 While the series does follow that very strange curve thrown at the marriage of Neil and Grace, there is so much more to it than that. It yearns for discussion. Perhaps that's why Neil has to go to a monk weekly. He is learning so much about himself and his marriage that he needs to lay out his thoughts and run them by someone who can't use them to hurt him.
Adriana, as well as the monk, is escorting him through a range of emotional epiphanies. Yes, she wants him to partner with her as a highly paid escort, but she also understands what makes people tick. She knows Neil is special because he is not in the business of sex.
When Neil goes to a masked party that Adriana has arranged for him to acclimate himself a bit better with her world, he starts acting like who he thinks she wants him to be instead of as he would normally act. That is the exact opposite of what Adriana wants from him or hopes that he sees in himself. 
Adriana: You're here because of who you are, not because of who you think I want you to be.
Neil: Well, I wanted to show you that I know what I'm doing.
Adriana: But you don't. That's what's so special about you. Just because you're wearing a mask doesn't mean you should be someone you're not. Not yet.
Neil almost comes to an agreement with Simon to put an end to their dealings, but Neil didn't have the power to call off the IRS and the more he talked with Simon, the less he liked what he heard. Neil doesn't want to think he hasn't provided for his wife, not just monetarily but emotionally, as well.
Neil is surprised when Simon asks whether Grace got the job she wanted. Part of him just hopes that what Simon says about Grace and other women holds no weight. Surely they don't tell him things they wouldn't share with their partners. Yet even as he grits his teeth at the thought, he was with a woman who shared her most intimate feelings about her husband with Neil, a complete stranger.
As much as he doesn't like it, Neil has to admit that Simon is right. He has lost sight of Grace, the woman he married. He's still married to a woman named Grace, but neither of them are the same people who walked down that aisle 18 years ago. She dreamed of a career where her creativity would flourish, and Neil can't help but be somewhat disappointed when he realizes that her dream wasn't to be married to him. 
While Neil was learning lessons about the facades in his marriage and other aspects of his life, Grace found herself trying to be what other people wanted as well. Jumping back into the workforce with a "boss" almost 20 years your junior isn't pleasant, especially when they sideline your work for trendy things like feng shui. 
Anika discovered being seen was a hell of a lot more difficult than being invisible. Her new popularity after the talent show hullabaloo meant she always had to be "on" and it's an unfamiliar feeling. Stephanie shares with her lessons on how to be in front of a crowd while remaining true to herself and encourages her to push past her fears.
Simon is still in Grace's life. She can't stop thinking about him and he desperately wants to tell her what Neil knows -- until Grace puts Simon in his place by reminding them of their arrangement. She may talk to him about her problems, but she does that with her hairdresser, too. Ouch.
Neil's desire to be truthful with Charles with regard to their business arrangement meant that he had to take a chance on Charles. Neil discovered who had been skimming the $1 million monthly from Charles accounts -- his wife. Neil showed Charles what his return on investment would be with his money under Neil's watchful eye. He also told Charles he discovered something about his wife that wouldn't make him happy. He tried to call Charles' bluff by reminding him he didn't need to know what Neil learned to still make a killing on his portfolio. It worked.
I think you're right. Not every partnership requires that we tell each other everything, as long as we're happy.

Charles
Neil knows he's wearing a mask with Grace and vice versa. He wants to take them off, but is worried about what they might find when they do. What if they don't recognize each other anymore? Will the brutal honesty hurt them this early in the game? If he's asking that, he probably already knows the answer. 
The masks will remain on for now, but he'll continue to try to better understand the person Grace wants to be, hoping that they can get to know who they are now before ripping off the band-aid. 
If that means they have to continue to explore who they are outside of their marriage, then Neil's up for that. He's not necessarily happy about it, but I think he's hoping that with a little more time and some coaching, she'll figure out what's going on with them, too.
If you missed any of the series, you can watch Satisfaction online via TV Fanatic. Hit the comments with your thoughts. Is the underlying infidelity too much for you to take or is the bigger picture of what's happening in their marriage enough for you to keep watching? 
Are you learning anything about your own feelings by watching Satisfaction?
Carissa Pavlica is the managing editor and a staff writer and critic for TV Fanatic. She's a member of the Critic's Choice Association, enjoys mentoring writers, conversing with cats, and passionately discussing the nuances of television and film with anyone who will listen. Follow her on Twitter and email her here at TV Fanatic.