There isn't a show currently on the air that examines the human condition as fully as Satisfaction.
Other series have made attempts to dig into marriages gone wrong; Julia and Joel on Parenthood, Alicia and Peter on The Good Wife spring to mind. There have even been extramarital affairs, but no couple has chosen to remain together while so broken.
On Satisfaction Season 1 Episode 4 Adriana tempted Neil with another date. A woman who needed someone special like Neil. It's easy to see the difference between Neil and Simon, although they're both basically doing the same thing.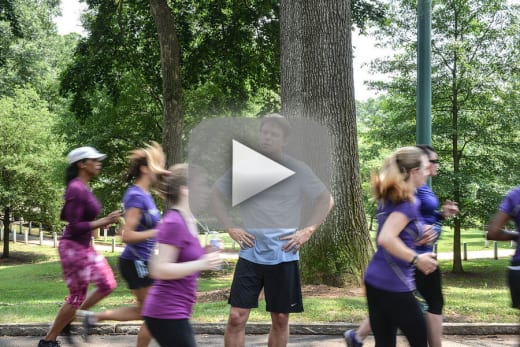 Neil doesn't just listen to his dates, but has information often gleaned through similar circumstances to share with them. Since Grace was trying on new clothes, Neil had a fresh perspective about how doing something as simple as wearing new shoes can mean exploring different parts of yourself. He's given real thought not only to his own situation, but the ones he encounters with dates. 
There is no doubt that he still loves Grace. When she undressed in front of him, he was breathless with anticipation. The way Matt Passmore slinks into himself gives me the shivers -- the good kind. He knows there's something to save, and isn't ready to give up hope, even with the realization he doesn't even know who he is anymore.
It's so interesting that he wishes he could go back to that day and not have a melt down and quit his job. If he didn't, he still wouldn't know about Grace and Simon and he'd still be who he was then. But was he happy? He has to admit he wasn't, but wasn't aware of it.
One of my favorite moments was when Neil and Jennifer were talking about her marriage breaking up. 
Do you ever wonder if sometimes you pick different partners so we can hide from ourselves? So we don't have to figure out who we are?

Jennifer
I've never has that particular thought, but now that it's out there, I can't help but see that I have done that. I have chosen people because I thought they might bring me out of myself or change me in come way. That's not a comfortable feeling. It's why occasionally being a "tequila person" and living outside of your comfort zone for a night can open you up to what you might really want. 
I think it's also why people argue. When you glimpse something you're not particularly proud of yourself, you want to lash out at the person you think is causing it. It's easy to choose your significant other, but in reality, it's our own choices that take us to that person and inspire the changes we make.
While Neil goes on dates to explore more of himself like putting on a new suit, Grace is going to Simon to run away from who she is. She hasn't seen the writing on the wall yet. She thinks what she's doing is private. When her feelings are tender or she wants to remember she's a sexual being, she'll look to Simon to fix it because confronting Neil like that seems impossible. If she only knew.
Neil is catching her off guard with his comments like this one:
I like you exploring these different parts of yourself. I don't get to see that much anymore.

Neil
She likes it, but past history has shown he won't be there for her if she opens up, if she shows him who she really is and wants to be. That might actually be OK, because Neil isn't ready for that dual exploration yet, either, as shown in this other Satisfaction quote:
Monk: When you can't find the words for the speech, it's because you don't believe what your saying matches who you are.
Neil: Actually, I think I don't know who I am anymore.
Anika is a product of her parents and has turned outside her immediate family for satisfaction, as well. Cool Aunt Stephanie lets her drive, covers up accidents, helps her throw parties, but she's not her parent. It's easier to be cool when there's less at stake.
I loved that Neil imagined himself giving the speech he wanted to give rather than the one he had to give in the courtroom, which ended with Anika giving him the same standing ovation he gave her after her talent show performance. They are so close to being who will make them happy, but can't quite grasp the ring yet.
A few bits about the show just have to make the review but don't suit my rant:
It makes perfect sense the FBI would pursue charges against Neil. Honestly, he got off easy. What doesn't make sense is that the flight attendant thought she could sue him civilly. Any passenger on that plane would speak on behalf of Neil.
Adriana is so unexpected. I love it! She pops up at any given moment and never misses a trick. Simon taking the sexual route to win her favor was so uncomfortable, knowing how intelligent she is.
Is it just me, or did Grace dress cool prior to buying the new clothes? I can't recall a frumpy outfit she wore. Maybe I'm just obsessed with her fabulous haircut and never notice the clothes.
That bitch of a project manager shouldn't have been allowed on the property. I can understand canceling her vendors, but taking Grace's plans? I don't think so.
Finally, all of this would be a lot easier to swallow if Neil and Grace got a little somethin' going of their own. Kids busting into the room, coffee spills, everything has interrupted them as soon as they start to connect. I need to see them connect to keep rooting for them. I can do it from Neil's perspective because he's such a multi-faceted character, but I'd like to see it nonetheless.
Satisfaction is an adult program. It's written for people who have been around the block, who have done things that haven't made them happy. For people who are searching for ways to dig out of where they've landed in the middle of life  and want to be happy with their partner or with themselves as they start fresh. Sure, it can be uncomfortable to watch, but what great TV isn't?
The journey can't be quick. Real discoveries like this take years. We expect our entertainment to do the impossible, but this is one hell of a ride. So tell me, readers, are you satisfied? Hit the comments with thoughts on this week's episode. You can watch Satisfaction online if you've missed any installments.
Is it time for Grace to learn the truth?
Carissa Pavlica is the managing editor and a staff writer and critic for TV Fanatic. She's a member of the Critic's Choice Association, enjoys mentoring writers, conversing with cats, and passionately discussing the nuances of television and film with anyone who will listen. Follow her on Twitter and email her here at TV Fanatic.