Was this a riveting installment of Teen Wolf?
Reactions on Twitter to Teen Wolf Season 4 Episode 7 ranged from fear for the pack due to the contagion they were exposed to all the way to tears at the Malia and Stiles moment when she learned her last name.
I'm not really sure what I think of the whole thing, to be honest. I guess the point was to let Malia in on her heritage.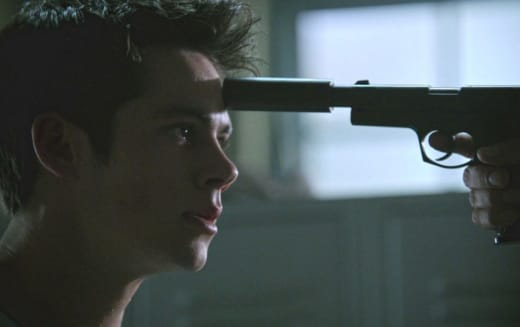 It didn't feel all that perilous. Yes, Reed died, but who's gonna miss him? I never really thought anybody else was in that much danger, just that they were scared.
Despite the many Malia haters, she still makes for some of the best moments each week. That fish out of water type behavior is always fun, and she had more than one of those this week. First, as they were waiting in line to take the PSATs we had this Teen Wolf quote:
Scott: Malia, you studied harder for this than any of us.
Malia: It doesn't mean I'm gonna do good.
Stiles: Well.
Malia: Well what?
Stiles: It's do well, not good.
Malia: Oh God!
And later, when she tried to get everyone to tell her what they were hiding from her, genuinely putting the group on edge thinking she had figured out who her father was, she was really only talking about being on the list:
Malia: How much am I worth?
Scott: $4 million.
Stiles: Are you OK?
Malia: Yeah. Scott's worth 25, Kira's 6; they'll take you guys out way before me.
Stiles: It's progress, it's progress.
We learned Coach has been sober for 15 years, which is nice to know. Lydia's mom was helping with the PSATs, even though Lydia herself took them long ago and Melissa has become the go-to mom for the supernatural crowd. It's probably one of my favorite things, knowing that the parents are aware of what the kids are exposed to all the time and there are no more secrets there.
Seeing Daddy McCall save Stiles was pretty kick-ass. They're all in on the action now and it makes for a much tighter knit story. Instead of hiding from them all the time, all the kids can turn to their parents when they really need them. That makes their relationships stronger all around. I like it. I think only Natalie is unaware of Lydia's business at this point.
Speaking of Lydia, she reached out to the spirit of Meredith via the groovy record room and found a photo of Meredith in that very room. What does that mean? There must be more to Meredith's story than we're aware. I hope we find out a bit more about her story, even is she is gone.
We knew it was coming, but Derek is no longer hiding the way he's taken with Braeden. He's using the excuse that he has money invested in her finding Kate and the Benefactor, but it looks like he's getting a new girlfriend to me!
After being temporarily blinded by the illness, Malia saw her name on the dead pool list as Malia Hale. When Stiles attempted to comfort her, she wasn't having it. Considering all that they've been through together, I have faith that they'll mend their rift, but Malia needs to find out more about Peter and what's going on. Maybe she doesn't even know Peter's her father -- just that she's a Hale. It didn't have a family tree, after all.
Since Peter's name isn't on the list, Stiles thinks he could be The Benefactor. We know he's reached out to Kate to try to figure things out, so I don't think it's Peter, but that symbol does point a bit more toward Gerard or someone in the Argent family. 
On Wolf Watch the DJ tossed out his thoughts -- it's Allison. I guess anything could happen, but that seems a stretch.
I kinda missed Liam this week and would have liked to see him with his anger issues be faced with something traumatic. Instead we got Satomi (Thanks chrisjozo and Mauib!) who went all Matrix on some bullets to save Derek. It's good to see her doing so well since Oak Creek, actually. She's come a long way, baby!
How did this week's installment work for you? Hit the comments and chat about it. Any new theories on The Benefactor? Re you liking Malia more and do you wish to see more of Kira in action? What will Lydia learn about Meredith? You can watch Teen Wolf online via TV Fanatic to help formulate an opinion!
How will Malia react to the news of being a Hale?
Carissa Pavlica is the managing editor and a staff writer and critic for TV Fanatic. She's a member of the Critic's Choice Association, enjoys mentoring writers, conversing with cats, and passionately discussing the nuances of television and film with anyone who will listen. Follow her on Twitter and email her here at TV Fanatic.