The Last Ship Review: Dangerous New World

Henry A. Otero at . Updated at .
There's no doubt this first season was a thrill ride. However, The Last Ship Season 1 Episode 10 was a fairly predictable wrap up.
As a matter of fact, in last week's poll for The Last Ship Season 1 Episode 9, one of my options was "Tom's wife will not make it."
It was obvious someone important would die. That there was more to the War Lords than meets the eye (get it?). Plus, something was seriously off about Granderson's mother from the moment we met her.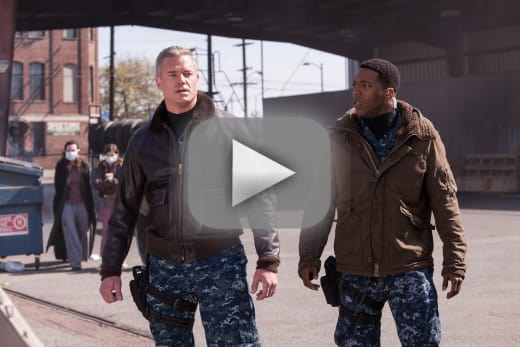 Was anyone else shocked to see how quickly Chandler's entire family had fallen ill? Tom's Dad proved to be a real hero and it's thanks to his determination the kids made it. Sadly, Darien wasn't so lucky. As the first one infected she died before Tom reached his family with a cure. Sure, we saw it coming but as the realization came over Tom it proved to be one of Eric Dane's more powerful scenes.
Another thought hit me: if Darien had survived all the flirting between the Captain and Rachel would have be for nothing. There was too much chemistry between those two for them not to hook up.
Satellite images reveal mass evacuations and areas marked with huge red X's. The lab the Nathan James had been searching for had been completely destroyed. "Targeted" is how Tom describes the images.
We soon learn that the Presidential bunker had gone silent and Amy Granderson (Alisha's mother) was running the show.


Amy Granderson: As vice chair of the President's defense policy board I was briefed on your mission to the Arctic. I knew the risks of the coming pandemic and I had my daughter transferred to your ship. You must forgive me.
Chandler: No apology needed ma'am your daughter's been an incredible asset.
Meanwhile, the War Lords, a resistance force we met last week, is monitoring their transmission. Did anyone else wonder at this point why they were targeting Granderson? Of course, it all makes sense later on.
As they drive through the city, Tom and his crew witness the devastaion first hand. Our heroes are told the War Lords have killed more people than the virus when in fact the truth is the complete opposite.
Tom and Rachel tell Granderson they have the cure and are met with applause from Granderson's scientists. Another one of those silly moments that turn the cheese factor up to 11.
Tex says his goodbyes and finally smacks a juicy wet one on Rachel. Are we looking at a love triangle in Season 2? Please don't go there guys, seriously. I will admit, it was great to see that Tex got his moment. I really like the guy.
Tom finally gets in touch with his father and learns they're sick. He makes his way to Olympia where folks are supposedly working on a cure and vaccinates his family. This felt very much like The Walking Dead's "Terminus" story arc to me.
Around this time we realize Granderson's scientists are actually killing the infected. After being vaccinated, her troopers take over and Granderson asks Alisha if Captain Chandler will still follow orders.
When Rachel confronts Granderson about her "treatment," the slightly off her rocker politician tells her...
Doctor you know this, in the 14th century the Black Death wiped out 60% of the European population. The plague killed indescriminitely. The artists, scientists, thinkers, so few and precious to begin with were wiped out. It upended the social order and prolonged the Dark Ages 150 years. I cannot let that happen here.

Amy Granderson
They're burning the bodies of the infected to power the city? What?!?

Naturally, Rachel refuses to comply and informs Granderson she can't replicate her vaccine with the doses she's given her. Everything Granderson needs is locked up on the ship. Tom attempts to reach his ship as the crew is gathered on deck and mysterious boats approach. Is it Granderson's people or will the War Lords come to the rescue? Guess we'll have to wait until 2015 to find out.
What did you think of the Season 1 finale? Did you find it predictable yet entertaining with a moderate dose of cheese? Hit the comments and let me know if I'm judging it too harshly or if I'm spot on.
Want to see the entire first season again? Watch The Last Ship online via TV Fanatic.
Grade the Season 1 Finale