Chicago Fire Season 3 Episode 1 Review: Always

Carissa Pavlica at . Updated at .
What an incredible loss. What a daring move. 
It's simply stunning to me that Chicago Fire isn't recognized during awards season. The acting is top notch, the storytelling incredible and it's full of heart. Is it because by nature "procedural" shows don't get recognition? They need to look beyond that, STAT.
On Chicago Fire Season 3 Episode 1, we were again reminded that first responders put their lives on the line to save ours. Every day.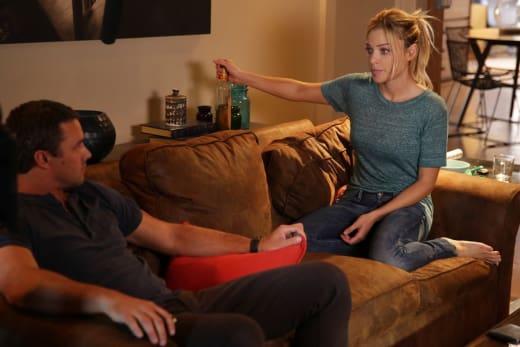 Chicago Fire doesn't lose sight of that. Chicago Fire Season 1 Episode 1 started with the death of Andy Darden. We saw the profound affect on the house after a death. During flashbacks of Shay's first day at the house, he made an appearance. Talk about continuity.
Why were we flashing back to Shay's first day? Because it was Leslie Shay who we lost. Severide and Dawson remained on the floor of the burning building as their friend was carried out, Dawson sobbing and Severide in shock. We were all in shock.
I admit to playing the "who won't make it out alive" game with Nick McHatton, who covered Chicago Fire the first two seasons. Shay was never on the list. Killing off another female (after Jones during Chicago Fire Season 2), another who was connected to Dawson and also happened to be gay was extraordinarily gutsy on the part of the series.
Just like real life, accidents don't discriminate. When lives are on the line, they're all at risk whether in the fire, fighting it or trying to save those who make it out. First responders are never safe and that's why their relationships with each other are so important. Without deep commitment to the job and trust in each other they would lose even more people.
That's also why it hurts them so much to lose someone. Their bonds are rooted in their job and their personal lives. It was heartbreaking to learn Dawson didn't accept Casey's proposal because doing so would just remind her that she accepted on the day she lost Shay. 
Hey. You said Shay told you we'd be great together. I choose to have that memory of that day.

Casey
Casey's take was far better. It was also up to him to draw Severide back to the house. 
Casey: So. You comin' back to 51?
Severide: The house is cursed, Casey. There's nothing but misery and heartbreak there.
Casey reminded him that the photos on the wall don't represent death, but the lives that they saved. Only someone who has suffered as much as Casey, losing Darden and Hallie, could get away with laying it on the line with Dawson and Severide.
Life goes on. Casey will ask Dawson to marry him again. He wants it to be right, not for his sake, because it's always right, but for her. He recognizes how important it is to her and doesn't succumb to her appeal to just accept her answer of yes so they could get it over with. 
Hermann plans on expanding Molly's. They had talked about it before but it always seemed as though they had all the time in the world to do it. He knows that's not true. Mouch and Cruz want in on the possibility of a franchise. That would bring them all even closer.
The world they share with their friends at Chicago P.D. was explored as Dawson mentioned Antonio and Mouch was dating Platt. Mouch took Boden and Donna out for dinner and he wanted to go dutch; Platt wouldn't have it. Of course, those of us who watch both series know she gets a stipend from her father. She can afford an expensive night out.
Boden was also experiencing great pain at the loss of Shay. It was exceptionally difficult for him because he's also happier than he's ever been with his new wife and a baby on the way. It's hard to be happy when others suffer.
I wish we had seen something from Erin Lindsay knowing how much Severide was hurting. They are dating so it wouldn't be so odd. Perhaps there was a scheduling conflict. He wasn't on much, and aired more in flashbacks than the present day.
The flahsback scenes with Shay continued throughout the hour. It's hard to imagine what Severide will go through as time goes on, but I hope they don't just let Shay's death slide quietly away. They were best friends. He was going to have a baby with her. He should have so many "what if" scenarios going on in his head.
The opening was so shocking that I didn't really have time to respond. It's difficult to write about. Shay just wasn't on my list. I didn't even cry when it happened. I always cry during Chicago Fire.
I was unaware they had saved the most powerful scenes for last.
Dawson's confession in counseling that she was blaming herself because she was trying to train Shay for her impending move to Firehouse 105 and they traded places finally caused her to break. When she did it, tears started to flow. The double whammy was Severide popping in the DVD of his contract with Shay. As one single tear streamed down his cheek it was impossible to hold back sobs. 
When Dawson told Casey Boden was preparing her paperwork for the move to 105, he said things will never be the same. That's putting it mildly. The writers and producers of Chicago Fire are willing to treat us as adults, not gooey fans. By doing that they don't pull any punches. They let us know the stakes are real in this fictional world.
I applaud that decision. It makes for incredible drama and by allowing us to get close to characters we fall in love with them. We understand what it means to lose them. It's a persuasive argument so we remember what first responders do for us.
Were you surprised that we lost Shay? Do you think Dawson will go to 105 and if she does, will she stay? Will Shay's death continue to haunt the house going forward?
If you want more laughter and tears, you can watch Chicago Fire online via TV Fanatic. Welcome to the new season!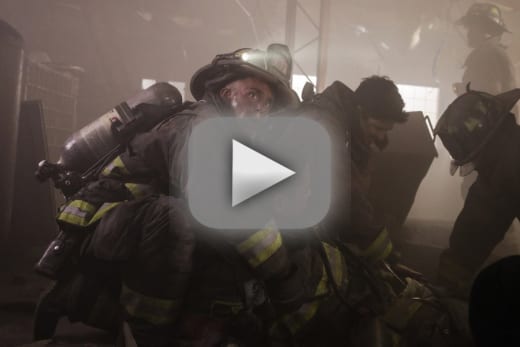 Carissa Pavlica is the managing editor and a staff writer and critic for TV Fanatic. She's a member of the Critic's Choice Association, enjoys mentoring writers, conversing with cats, and passionately discussing the nuances of television and film with anyone who will listen. Follow her on Twitter and email her here at TV Fanatic.