Gossip Girl Season 2 Episode 16 Rewatch: You've Got Yale!
Leigh Raines at .
Racking my brain, I can't recall college early acceptance day to ever be as intense as we saw in Gossip Girl Season 2 Episode 16. 
Perhaps it was because I didn't go to an elite Manhattan prep school. Or maybe it was that we still had to wait for snail mail in my day. But mostly I just think it's because we didn't have a BLAIR WALDORF. Yep, that's it.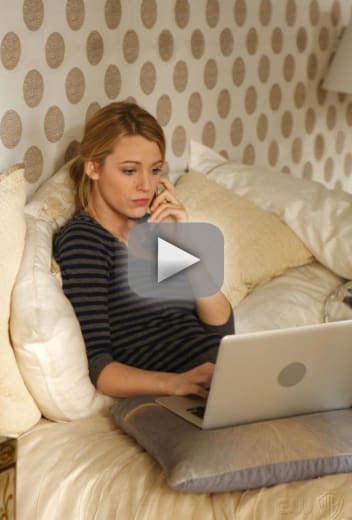 That's right it was D-Day! Or Y-Day actually...Whatever you want to call it, Harold, Roman, Dorota, and a really damn cute bulldog were there to great Blair the morning of Yale early acceptance day. Something she'd been waiting a mere 18 years for.
Well despite the fact that I felt bad Blair got wait-listed (and Serena got accepted for a totally BS reason), Blair really played this all wrong. First of all, what was she doing letting her minions help with something as important as her college acceptance? They can't be trusted.
Second, Blair did not act like the adult woman who should've been proving that she was worthy of a spot at one of the most prestigious academic institutions in this country. She threw a hissy fit and demanded to see Queller right away.
Miss Queller: When I spoke to Dean Barrowby this morning, he assured me that if the student they've accepted turns them down, you are next in line.
Blair: Dan Humphrey. He's like a cafeteria lady who won the lottery. You couldn't pry that acceptance from his hands with the jaws of life.
Then she dressed down the new teacher. I never particularly cared for Miss Carr, reasons should be clear enough to viewers who have already seen future episodes. However, you don't just prank and threaten a new teacher with no background. Especially when something like Yale is on the line.
Now I want to take a moment and acknowledge that as flakey and crappy a friend Serena may have been at times, there were also the moments that she truly pulled some ride or die moves. Turning down her own acceptance for Blair was one of them.
Then again, she probably only wanted to go for Dan and that relationship wasn't going to work while Lily and Rufus were hot and heavy on the rekindling. 
I would say "get a room," but yours is right above mine. Please try to remember that.

Eric
While the main storyline of this episode was Yale, I found the B plot to be far more enrapturing. Lily and Chuck joining forces to take down Jack? Yes please. The best way for adversaries to join forces  is to find a common enemy. 
Although I grew to eventually enjoy Jack in later years and overall, he was a real douchebag when we met him. It was fun to watch him spar with Chuck at times.
Chuck: If your people don't come up with anything, maybe we can try #26.
Lily: (reading) Crash Jack in plane. The Bass jet is kind of expensive, Charles.
Chuck: There's insurance.
However that moment in the bathroom was just insane. A coked up Jack threatening and assaulting Lily was some real deal drama. It's ironic but also a show of massive growth that it was Chuck who saved the day. Remember Gossip Girl Season 1 Episode 1 with Jenny Humphrey on the roof? Chuck changed a lot over the course of just a season and a half, THANKFULLY!
Honorable mentions:
Nate being clueless is adorable.
Dorota and handsome Dan waiting for Blair at school before she declared war.
Rufus trying to learn opera for Lily.
Dan's interest in Miss Carr before his breakup with Serena was even solidified.
So which storyline did you prefer: Yale acceptances or Bass Industries takedowns?
Looking to watch Gossip Girl online? You've come to the right place!