We knew this operation was deteriorating quickly, but where it ended may not have been where we anticipated.
All of the dysfunction and deception that plagued the Graceland agents came home to roost, creating new enemies and forcing many to face the truth in Graceland Season 2 Episode 13.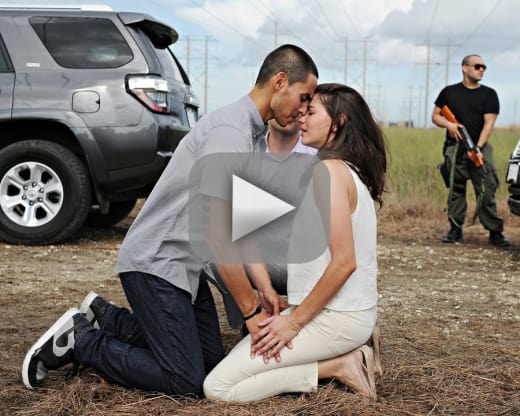 Amy let Charlie be brutalized by a mysterious money-laundering British man who Briggs has made enemy number one, even after Charlie's rescue. Let's be honest, if we were Briggs, we would probably have a similar vendetta. I am just happy that the baby is OK.
I wasn't sure they would follow through with the whole pregnancy thing and that this might be the way to move past it. I am very curious to see where it goes.
Talk about traumatizing, though. I was pretty shook up over Charlie. So imagine my surprise when Paige went to Sid over Mike. If Paige ever wanted to put a hit out on someone, what she did tonight with Mike was darn close. That's especially true if he is, in fact, dead.
I can see how all the lying and emotional distress Mike has put Paige through would lead her to do something like that, but, man, was that crazy to watch unfold.
Lucia's theft of the money from the sting forces Johnny and Lucia to return to the Solano compound, only to fall into Carlito's trap. And a creepy one at that. There is no doubt in my mind that Carlito probably killed Lucia, especially since Papa Solano is similarly dispatched already. The dude is straight up crazy, there's no denying that. Johnny really needs to come clean and get the help he should have reached out for a long time ago.
One thing is for sure: if ever there was as time for Mike to be reflective and maybe even knocked off his high horse, this mission, and its apparent outcome, would have been the perfect thing to set him straight. That is, if he's still alive. And if he is, let's hope he comes back a kinder, gentler, less gung-ho at all costs version of Mike.
This has certainly been one twisted season on Graceland.
So, do you think this is the last we'll see of Mike?
C. Charles is a TV Fanatic Staff Writer. Follow her on Twitter.