Hell on Wheels Review: Major Choices

Sean McKenna at . Updated at .
Whether you like or dislike Elam's new journey or the final moments of this hour, there's one major thing you can take away from Hell on Wheels Season 4 Episode 7 (and really, the entire series):
Anson Mount shines as Cullen Bohannon.
Because ultimately the repercussions and decisions regarding Elam's return are in Cullen's hands, and we really get to see the rather quiet character hit some emotional lows amidst all the rough and tumble action and general badass antics attributed to him.
Cullen has tried very hard to stay on the straight and narrow path, avoiding violence and sticking to building the railroad. And yet no matter how chipper he appears in the face of the all adversity, he not only can't avoid the dangerous side of Cheyenne and beyond, but this time around, he has to physically participate.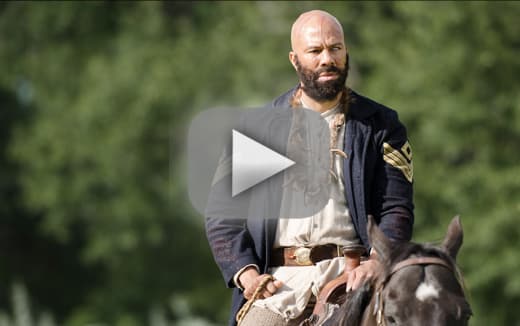 The initial reveal to Cullen that Elam is back is one with some elation. An old friend, one who he has had tiffs and disagreements with (like any brother), was alive. Unfortunately, he wasn't well.
And Cullen recognized that, but rather than brush him off, he tried to use Eva to jog his memory. But even with her new card tricks (is that all she does now?), she can't get him to recognize her.
In a sad way, I'm pleased that he couldn't be broken from his trauma. There was no easy out, no aha moment. He was no longer Elam, but "Bear Killer," and he was willing to abuse the women he dragged around behind him because they were his property, and he was willing to kill anyone getting in his way (much like we saw in Hell on Wheels Season 4 Episode 6). He was a changed man, but not for the better, and his new journey was not exactly the uplifting turn around we had seen him push for.
So it made it that much more of an emotional moment when Cullen, who tried his hardest to prevent his friend from being shot, was forced to turn the knife on Elam and subsequently shoot him. Although the scene felt perhaps drawn out a bit longer than I assumed John Campbell would actually let it, I really could only fear the worst for Elam. But to have Cullen actually do the deed?
You could see the pain in Cullen's eyes as he finished off his friend. And as much as we would have liked Elam to live, or to get the help he needed, I'm not sure that was possible, especially considering the era he was in. It's not as simple as a quick fix.
And that tear that ran down Cullen's solemn but straight face after his major act and Eva shouting out that Elam went to look for him hit him even harder. As if Cullen didn't have enough weight on his shoulders. He's definitely going to feel overly responsible for what happened to Elam to that final death.
Getting an actual breakdown from Cullen was a huge moment, considering the scope of what he felt he was forced to do. It made that pan away of him at the grave site that much more haunting.
Anson Mount really delivered during the hour, but the same could be said for Common (although a few of his serious lines of dialog about women being good baby makers did make me laugh).
Now I don't know if Elam's death was in the works or Common wanted out of the show, but his transformation from the bear attack was one I'll remember. That creepy eye, aggressive demeanor and ultimate change from the man we all knew was rather tragic.
Although, his return was extremely short lived, almost too short, it was a far more impactful ending than the potential one in Hell on Wheels Season 3 Episode 10.
Clearly, death and the railroad go hand in hand, and a happy ending isn't always in the cards. Just look at many of the characters that have passed through from Lily Bell to Joseph Black Moon to Sean McGinnes.
Living life out in this "uncivilized" world takes its toll, and while there are good, positive and uplifting moments, there's plenty of hardship and tragedy.
Thomas Durant would agree. Though, I was less interested in his part of the story, he showed once again that he's not to be underestimated. You mess with him, and he will kill you and continue to build "his" railroad.
John Campbell's men seem to be falling rather fast, so can he last in Cheyenne as well? Can any of them? Or are they all doomed to die early deaths rather than live out their lives with wives and children like Psalms begged Cullen to do at the outset of the hour.
Things are certainly changing in Hell on Wheels Season 4, but the harsh realities of the time and wild west of railroad building continue to dominant the people trying to make something of themselves. It just makes me wonder what the fate of Cullen Bohannon will eventually be.
Are you sad to see Elam go?
Sean McKenna was a TV Fanatic Staff Writer. He retired in May of 2017. Follow him on Twitter.