Hell on Wheels Season 4 Episode 9 Review: Two Trains

Sean McKenna at . Updated at .
The showdown between Syd and Cullen was inevitable. But would it be good?
Oh, yes. Yes it was.
Hell on Wheels Season 4 Episode 9 was an enthralling hour that built up its tension, had some great moments for both Cullen and Syd, and really captured that Western-themed feeling right until the last gunfight.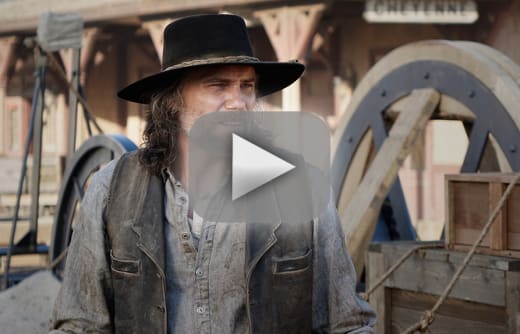 And we've had a fair share of shootouts on Hell on Wheels, and one that immediately came to mind to compare with (and one even Durant mentioned!) was when the Mormons shot up the town for Cullen in Hell on Wheels Season 3 Episode 9.
That was a beautifully shot and action-packed hour, but it left me wondering just where the series was going.
This particular episode was also cinematically great to look at, and while a majority of the story did focus on the tense confrontation between Cullen and Syd, I had some sense of where the overall story was headed.
Cullen wants to take back the railroad, get the work done, and stop all the John Campbell power-play nonsense. If that means facing off with Syd and his legion of lawmen, then so be it.
But I loved the back and forth and the drawn out sense that something was going to happen. There wasn't an immediate guns blazing, but even the whole town seemed to know to steer clear.
How empty were those streets?
It was great to see Cullen trying to come up with a plan, recruiting Mickey, and even the engineer. At the same time, the fact that we weren't quite sure what his plan was, was a nice touch. It made us feel just like Syd, knowing something was going to happen but antsy with anticipation.
From the face off in the deserted streets of Cheyenne to the rooftop leap on the train, this was a visual treat.
Watching the show's hero, Cullen, cause not only a stir that required numerous men to try and take out one man, but then see him finally take control of the train was fun. There's nobody quite like Cullen Bohannon whether he's walking, talking or showing his opponent whose really going to win the fight.
It made for the final shootout of the hour a nice change of pace from doing it in town. It was different, and even the slow motion and lack of sound effects was an alternative touch to the battle.
I had to do a double take when that huge machine gun appeared as well.
Cullen came prepared. And seeing him team up with Durant, Psalms, Mickey and the other locked up men was truly great to watch.
So was I surprised Syd escaped? Perhaps. I thought he might wind up dead because Cullen had no other choice, but even Cullen knows that Syd will be back.
It'll certainly be a surprise for John Campbell, when Cullen returns with them all. And is peace between Durant and him even possible? John seems to have lost pretty much all his lawmen.
I am still scratching my head at the sex scene between John and Louise Ellison. While they did touch upon her being a lesbian, was her reason for sleeping with John a power play? Was it self-preservation?
I know what John wanted, but I'm still trying to figure out just who Louise is. At least she didn't do any voice overs
Still, I've been rather impressed with Hell on Wheels Season 4, feeling much more engaged and excited to see what's next in a tale that feels far more focused. If things keep up right until the very end of the finale, this might just be one of the best seasons of Hell on Wheels. And that's a great thing.
Are you enjoying this season of Hell on Wheels? What did you think of the Cullen and Syd showdown? Sound off below and see that gunfight again when you watch Hell on Wheels online.
Sean McKenna was a TV Fanatic Staff Writer. He retired in May of 2017. Follow him on Twitter.