Joan Rivers has passed away at the age of 81. The legendary comedian had been in poor health since last week and possibly longer than that.
Her daughter Melissa Rivers confirmed that Joan Rivers died "peacefully at 1:17 p.m. surrounded by family and close friends" earlier this afternoon.
"My mother's greatest joy in life was to make people laugh. Although that is difficult to do right now, I know her final wish would be that we return to laughing soon."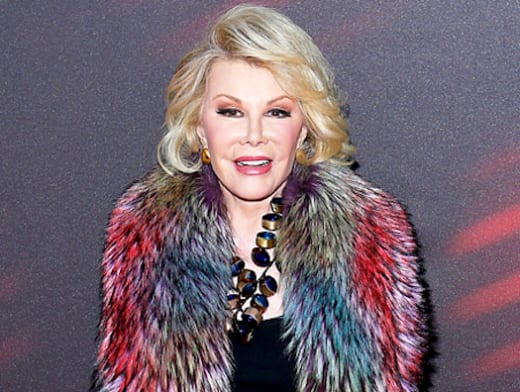 The gravelly-voiced, off-color Rivers stopped breathing during a procedure on her vocal cords at a New York Clinic on August 28, and never recovered.
Joan was placed in a medically-induced coma at one critical juncture, then subsequently taken off life support, at which point her condition did not improve.
If anyone could say they lived a full life, it was Rivers ... even if she made it the butt of jokes from The Tonight Show to Fashion Police over 50 years.
From talk shows to Vegas gigs, hosting award shows to offering fashion commentary, self-deprecating stand-up comedy to viral videos, she had or did it all.
Politically incorrect in a politically correct world, she often courted controversy and was never far from the limelight, right up until she died this week.
She'd come quite a ways since the 1960s, when Rivers was a literally unprecedented figure in the lengths she would go to as a comedian in that era.
There's very little Joan didn't accomplish or dabble in in entertainment, but she is perhaps best known for her permanent guest host Tonight Show duties.
That role catapulted her into the national conversation and made her a beloved figure to many fans, thanks to her always edgy and honest nature.
She is survived by Melissa Rivers, her daughter by late husband Edgar Rosenberg, whose 1987 suicide was the biggest tragedy in a life of so much laughter.
Rivers and her daughter hosted countless award shows and even starred on their own reality show Joan and Melissa: Joan Knows Best? for WE TV.
She will be missed.
Steve Marsi is the Managing Editor of TV Fanatic. Follow him on Google+ or email him here.