Parenthood Season 6 Episode 1 Review: Vegas

Carissa Pavlica at . Updated at .
The Bravermans are back and with the ending set in stone, it's difficult not to worry that we could see some drastic changes as we hit the final stretch.
In Parenthood Season 6 Episode 1 Amber comes to terms with her pregnancy, we discover Julia has moved on quite nicely from Joel, the Chambers Academy is prepping for opening day, Hank discovers he'll be sharing custody of his daughter 50/50 and Zeek suffers an "event" while on a surprise birthday trip in Vegas.
Things are normal as ever with the Braverman clan. Everyone is going a mile a minute and the frenetic pace of the hour may have diminished the impact some of the stories would have had if they had slowed down a bit.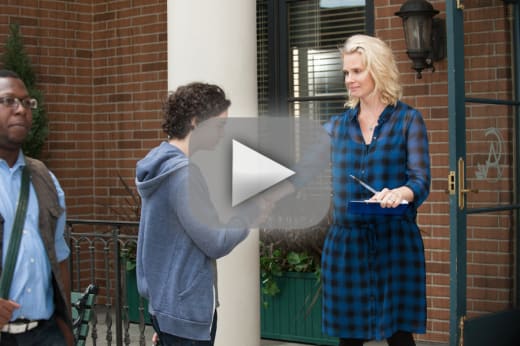 It's hard to fault the series for wanting to bring as much closure to this great family as entirely possible. With everything they've addressed over the years; Asperger's, breast cancer, divorce, alcoholism and abortion among other things, the one thing they've never had to address was a death in the great family.
That's why what happened with Zeek on his birthday trip to Vegas was so concerning. As he and his beloved Millie discovered they had grown apart a bit, they made changes to their lives, including selling the Braverman home. 
Zeek's love for Millie is complete. He knew he had his chance during his lifetime to do things that she never got to and if it mean their love remained solid, he was willing to change and grow with her. 
Could the stress of all the change been a little too much for Zeek? While the early indicators at the "rinky dink" hospital in Vegas didn't show he had a heart attack, his own doctor is concerned. He doesn't like his patients falling to the floor. The way the scene panned away as the doctor talked to Zeek about what they would do next was jolting. 
I fear for Zeek's life.
Is it realistic for a family the size of the Bravermans not to experience a death during six seasons, dramatically speaking? The ultimate test for any family is their ability to rise above the most horrific challenges thrown their way and with the changes of their older years already in play, I'll be surprised if we don't lose one of the Bravermans before the series ends its run.
If that does happen, it will no doubt be done with the utmost respect and emotional resonance for viewers. We'll see if any of my odd thoughts hold weight during the 13-episode final run. In the meantime, I hope we'll continue to have more great father/son moments with Zeek and Crosby. Their relationship is my favorite.
Crosby: Dad, I would like to play craps if we're gonna stay, after a few hands, if you're in for a different game?
Zeek: That's my boy!
Of course, there were other developments of note.
Now that Sarah has chosen Hank, it makes sense for him to jump into the parenthood business. He's been a long-distance father for most of the time we've known him and with his ex, Sandy, feeling the pressure of raising her alone to be too much, Hank will now share Ruby 50/50.
Sarah seemed a bit put off by the notion of him having an in-home child, since her own are now off as adults. Is she prepared to be a step mother to Ruby? We'll surely find out. Her own life will be in flux as she deals with the idea of becoming a grandmother.
As Amber nears the second trimester of her pregnancy, she's finally realizing what it means. 
Amber: Now we're like old. We're like real life grownups, dude.
Haddie: Wow.
Amber: I'm gonna have a baby.
Having Haddie back makes complete sense considering the enormity of her parents starting the Chambers Academy and it's even better in context for her friendship with Amber. Amber will need people in her corner. Choosing to share her news with Haddie first reminds us how close the cousins once were.
Everything in Sarah's life will make her relationship with Hank even more intense.
I doubt Julia's relationship with "Mr. Jeffries" will be end game, but it's easy to understand her desire to move on from Joel. They lost each other and she needs to mend. Whether being with Mr. Jeffries will make things better or worse will take time to discover, but her family is firmly planted on Team Joel. At least she has her career back and that will put them both on equal footing again.
Max continues to want to make everything about him and I have the utmost respect for parents who can deal with a child like him. Instead of throwing their hands up in frustration at his determination not to attend the school they created for him (and wow, what an achievement), they just kept going at him from different angles so he would see the light.
Max is always good for Parenthood quotes, though, isn't he?
Max: What are we doing?
Kristina: We're watching paint dry.
Max: I don't like metaphors.
Kristina: It's not a metaphor. We're literally watching paint dry.
And so the sixth and final season of Parenthood has begun. As one of the best families on television, it's difficult to imagine the landscape without them. Let's enjoy the ride while it lasts. We'll shed tears and share laughter and there isn't much more we can ask from a family drama, is there?
You can watch Parenthood online anytime if you've failed to keep up. I urge you to do it if you like family-oriented stories. You won't be disappointed. Hit the comments and we can chat about what we thing Parenthood Season 6 has in store.
Carissa Pavlica is the managing editor and a staff writer and critic for TV Fanatic. She's a member of the Critic's Choice Association, enjoys mentoring writers, conversing with cats, and passionately discussing the nuances of television and film with anyone who will listen. Follow her on Twitter and email her here at TV Fanatic.