Most of the time life seems like a linear journey. It rolls on uninterrupted. But sometimes an event cuts across the fabric of your life and leaves jagged edges that can't be ignored.
That's what happens to the kids in Red Band Society Season 1 Episode 1. Their stay at Ocean Park Hospital will forever change their lives. There's what came before. There's what comes after. This is the story of what happens in between.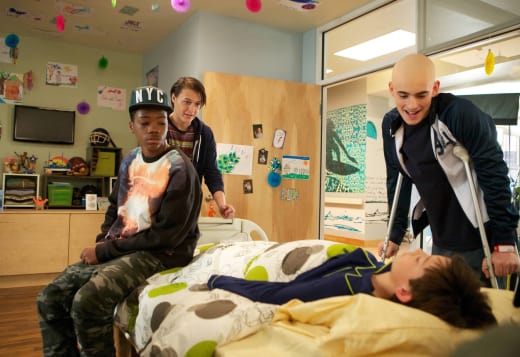 Charlie walks us through what it's like to live on the pediatric ward. Well, walks may be an overstatement. Charlie's in a coma and perhaps Kara, (the newly admitted cheeleader/ mean girl) was rubbing off on me because I kept thinking of him as "coma boy" instead of by name. So there wasn't much for Charlie to do besides lie there…and narrate. 
But he manages to give us the lay of the land and even order pizza when he makes contact with an unconscious Kara who's in heart failure. He explains that maybe the smell of pizza might wake him up. I actually laughed when she later held a slice over his face yelling at him to wake up.
Kara's got her own issues. Not only does she take being a mean girl to a whole new level, she's about to pay a huge price for it. She needs a new heart but having tested positive for nicotine, amphetamines, cocaine, and marijuana (how old is this girl?!?) is going to put her on the bottom of the transplant list. 
There's Dash, the obvious comic relief if you can find such a thing with a teen cystic fibrosis patient but Dash doesn't let it slow him down. He actually tries to make it work to his advantage when he cons a young, new nurse into giving him a sponge bath and propositions her for much more…
You could give me that singular experience that I can carry with me into eternity.

Dash
Players, they start young. 
Jordi walks into the hospital and gets Dr. McAndrew to be his doctor…and remove his leg. But even that is eclipsed by some teen romance between him and eating disorder patient Emma.  Where adults might hedge at asking about such a life changing surgery, teens have no such compulsions as seen when Emma asks Jordi about his leg in this Red Band Society quote…
Emma: Can you keep it?
Jordi: Yeah, I'm planning on freezing it.
Emma: Like wedding cake.
Jordi points out that Emma's got quite a twisted side for such a straight-laced looking girl. Emma smiles as she shoots back that not everyone appreciates it.
Perhaps she's talking about Leo. The two smartest kids in class have been dancing around one another for a while. She's not happy when he notices new girl Kara. 
I really thought the tearjerker scene would have been when Jordi asks Emma to dance with him the night before his surgery because it might be a while before he gets to do it again. (Talk about a great pick up line.) It was actually watching him get up off the gurney and run through the hallways the next morning that made me misty. 
As new friend Leo tells Jordi beforehand…
Your body isn't you. Your soul is you and they can never cut into your soul.

Leo
But that doesn't mean it won't leave a mark.
Throughout this journey the kids are accompanied by Dr. McAndrew (Dave Annabelle - Brothers & Sister) and Academy Award winner Octavia Spencer as scary Nurse Jackson. She's the equivalent to the mom who loves you but will slap you upside the head when you get out of line. Her commentary on the kids exploits can be as entertaining as the kids themselves. 
You know what happens to patients who cry wolf? We sell their organs on the black market and split the money.

Nurse Jackson
In the end, Leo offered the best life advice, because it's true, even when you don't want it to be... "Luck isn't getting what you want. It's surviving what you don't want." 
Some will compare Red Band Society to a cross between Glee and Grey's Anatomy or if you want to go a little more old school, I'd say it's The Breakfast Club meets ER. 
In essence this is a laughter through tears type of a show, thankfully with a few more laughs than tears. My advice, don't get scared off by the angst of seriously sick teens but tune in for the coming of age drama in a unique setting that can make you both laugh and cry.
Tell us, TV Fanatics, will you tune in for more of the Red Band Society? 
C. Orlando is a TV Fanatic Staff Writer. Follow her on Twitter.