Sons of Anarchy Season 7 Episode 4 Review: Poor Little Lambs

Christine Orlando at . Updated at .
Just when I think I'm ready for what's to come this season, something like Sons of Anarchy Season 7 Episode 4 comes along and proves me wrong. 
Sometimes I'm not sure what's more disturbing: the rampant violence or what's said during the quieter moments. 
Take Gemma talking to Tara once again, after dropping Abel off at school. Even Abel's teacher (played by Courtney Love) quickly figures out that grandma's crazy. I'll admit, there are rare moments when Gemma's brand of crazy works for me. I hate people who lay on their horns in line. 
The only reason Gemma's bringing Abel to school is because she knows it's what Tara would have wanted. She even appears to hope that Thomas turns out to be a doctor like his mommy. But Abel is just like his daddy, heaven help us all. 
Speaking of mommies, Colette stopped in to help out at Diosa an Gemma called her Jax's mommy fetish…
The phrase "Mommy fetish" coming out of the mouth of my own mother should never happen again.

Jax
As if that were the most disturbing thing in their world. 
When the APB went wide, Gemma decided it was time to get Juice to her father's place but when he started rambling about how his own thoughts don't sync up while he's alone, you could see the wheels turning in Gemma's mind. Juice has become too much of a liability to be allowed to roam on his own. 
I'm pretty sure I know why Gemma's packing a gun with a silencer, what I'm less sure about is why Juice is doing the same. Is it merely for his own protection or does he have a plan of his own. 
Things went horribly wrong for Jax and the club at every turn in this hour and it was hard not to agree with Bobby in this Sons of Anarchy quote...
Bobby: Remember when our biggest problem was which Mayan to kill?
Jax: Simpler times.
First Tully's boys opened fire on the Sheriff's officers, killing one and badly wounding another. If Eglee wakes up she may have an awful lot to say about what happened in that field. 
Tig got shot as they tried to fix the mess that was made when they killed the Reverend. On the upside it led to the return of Venus Van Dam. It's always good to see Venus but the most fun was the expressions on everyone's faces when they realized how close she and Tig had become. Exactly how did Tig know that she likes to "dilly dally" with a client. Also, I love that she calls him Alex. 
Does Tig have enough stature within the club so that everyone will simply look the other way when it comes to this unique relationship? I really hope so.
Next, the Chinese threw a grenade into the ice cream shoppe. The most telling thing about that event was how Chibs immediately threw himself on top of Sheriff Jarry. If there was any doubt that there's something brewing between those two, that act certainly eradicated it. 
As if things weren't bloody enough, the Chinese walked into Diosa and there was no question what was about to happen next. I'm just grateful we didn't have to actually watch it go down. It was actually more dramatic to have Nero get the call and have everyone race there.
Do you think someone ratted out the club to the Chinese or did they figure the deception out all on their own? And did anyone else find Jax's reaction at Diosa disturbing? Where Nero looked absolutely gutted to see Colette and the rest of the girls lying in a blood heap, Jax appeared way too calm. 
Anyone and anything near the orbit of the Sons of Anarchy seems to risk coming to a bloody end. With nine more episodes left I can't even imagine who will be left standing when it's over. 
And don't forget, if you need to catch up on the mayhem you can watch Sons of Anarchy online here at TV Fanatic.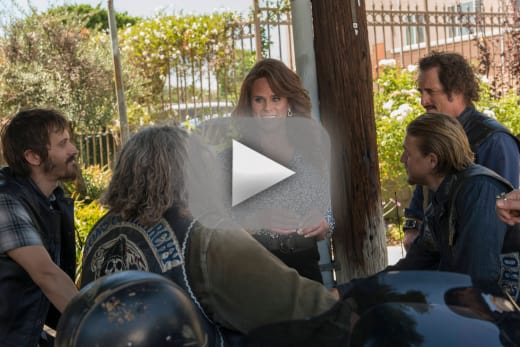 C. Orlando is a TV Fanatic Staff Writer. Follow her on Twitter.