A new season is upon us! The last time we saw Danny Castellano and Mindy Lahiri, they were reliving romantic comedies and wound up together at the top of the Empire State Building.
So, what are the new couple up to now? Well, on The Mindy Project Season 3 Episode 1, Danny and Mindy are a seemingly happy couple.
If you had told me 5 years ago that I, Daniel Casstellano, would be dating Mindy Lahiri, I would've said, "Oh, is everyone else on the planet dead?"

Danny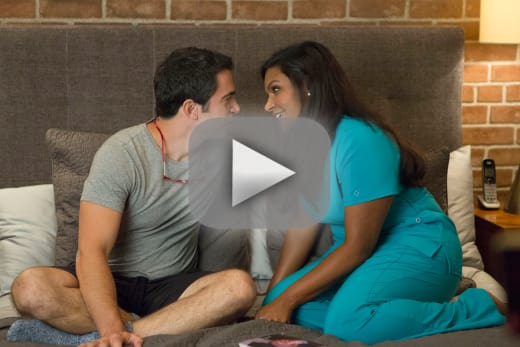 Danny and Mindy both give voice overs about dating each other. Even though they are a couple, Danny and Mindy are still… Danny and Mindy. Danny's stubborn and Mindy's self-absorbed. One of the things we learn about Danny are his weird turn-ons; namely the song, "More Than a Feeling." Interesting choice, Danny. 
Throughout the episode, the running joke is Danny's kissing ability, the talk of which is spread throughout the practice (by Mindy) using the most amusing description to ever describe someone kissing.
She says you're like a thirsty camel in a desert oasis and I don't know if she's referring to your technique or...?

Peter
Danny, rightly so, is frustrated by Mindy's gossiping, and after Jeremy leads a charity event meeting for the practice with Peter's girlfriend, Lauren, Danny confronts Mindy about her habit.
In an attempt to get out the event, we're treated to the return of the wonderful one-liners by Beverly. The lines are always out of nowhere, but every time she speaks it's entertaining; very Creed-esque from The Office.
I can't go. I have tickets to an execution.

Beverly
Mindy tries to stop gossiping, and does… for a day, until she discovers a stripper thong in Danny's dresser. Through a series of events she finds out that Mr. Danny Castellano was a male stripper -- "Diamond Dan"-- in college; a random addition to Danny's past.
Danny has another secret that Mindy doesn't keep. Jeremy is flirting with Peter's girlfriend and both secrets are spread throughout Shulman & Associates by the beginning of the charity event. That leads to a fight between Peter and Jeremy that begins and ends as what may be one of the most pathetic fights on TV; which makes it that much funnier to watch.
Rob McElhenney, Mac from It's Always Sunny in Philadelphia, is introduced as Morgan's Cousin Lou. The appearance is humorous, but I feel like they could've done more with the character in separate episode, rather than fitting him in to an already packed one; however, the lines he did have, and the way he and Morgan interacted, were a funny addition.
"Diamond Dan" gave a great performance, showing off his routine for Mindy. I wonder if Mindy Kaling and the Writers' Room sit around and think of ridiculous and hilarious things for Chris Messina to do. First, a dance, now a strip tease. I'm looking forward to whatever they have him do next.
Overall, the episode was good start to the season. There were not as many laugh-out-loud moments as I was expecting, but the episode proved that the show can remain the same goofy sitcom with Mindy and Danny as a couple. Do you think that Mindy and Danny will make it? Do you think the show has changed now that they are together?
If you need to catch up on the show, watch The Mindy Project online now.
Mary Kate Venedam is a staff writer for TV Fanatic. Follow her on Twitter and on Google+.